Hustle creator calls time on BBC show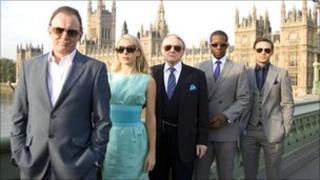 The creator of BBC One con artist drama Hustle has said its newly commissioned eighth series will be the last.
But writer Tony Jordan did not rule out the possibility the show, which first aired in 2004, could be revived.
"Do you allow the show to fade away or... quit while you're ahead?" he told Broadcast magazine. "You want to go out like James Dean in a fast car."
A BBC spokesperson confirmed the next series of Hustle would be the last "with the current gang".
But the corporation said it was "in discussions" about the programme's "continued life".
The seventh series of Hustle, screened earlier this year, attracted an average audience of 6.3m viewers.
The show, which stars Adrian Lester and Robert Vaughn, is made for the BBC by independent production company Kudos.
Screenwriter Jordan acted as the lead storyliner on EastEnders for several years, and co-created time-travelling police drama Life on Mars.