Hugh Grant takes pirate role in new Aardman adventure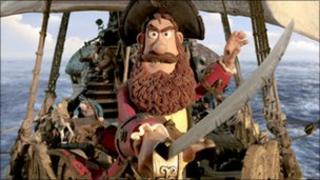 Actor Hugh Grant will voice a bumbling pirate captain in a 3D animated adventure from the team behind the Oscar-winning Wallace and Gromit films.
The Pirates! In an Adventure with Scientists will use the same stop-motion techiques of previous Aardman films, such as Chicken Run.
Salma Hayek will co-star as his arch-rival Cutlass Liz, with David Tennant as a young Charles Darwin.
Martin Freeman, Brian Blessed and Imelda Staunton will also feature.
"I'm so grateful to the entire cast for their talent and energy," said Aardman's Peter Lord, director of the film.
"Only Hugh could anchor this story of love, loyalty, greed and nautical high-jinks."
Lord, a founding partner of British-based Aardman Animations, also co-directed Chicken Run, with Nick Park.
The film, to be distributed by Columbia Pictures, will be released on 30 March 2012.