Paul Gauguin sculpture sells for record price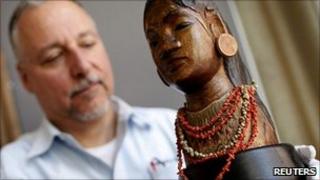 A wooden bust by Paul Gauguin has sold for $11.3m (£6.8m) at Sotheby's in New York, a record price for a sculpture by the 19th Century French artist.
Jeune tahitienne (Young Tahitian) was last seen in public in 1961.
The work had been estimated to sell for between $10m (£6m) and $15m (£9m), the auction house said.
The current record for a Gauguin work is held by L'homme a la hache (The Man with an Axe), which sold for $40.3m (£24.4m) in 2006.
The latest auction coincides with a Gauguin exhibition taking place at the National Gallery of Art in Washington.
It is the first major exhibit of the artist's career in the United States in around 20 years.
This week's sale contrasts with an earlier auction in London in February when a rare Gauguin painting failed to sell.
Nature Morte A L'Esperance (Still Life with Sunflowers) had been expected to fetch up to £10 million at the Christie's event.