Simon Cowell soars in UK music rich list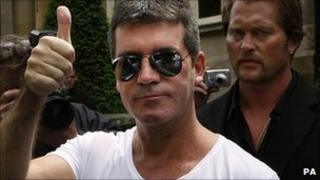 Music mogul Simon Cowell has made his debut in the Top 10 of the annual Sunday Times music rich list with an estimated fortune of £200m.
The X Factor judge, who featured in the poll at number 11 last year, is now in sixth place.
Record label tycoon Clive Calder tops the list, with Andrew Lloyd Webber in second spot.
Sir Cameron Mackintosh, Sir Paul McCartney and Simon Fuller also feature in the top five.
It is thought that Calder, who co-founded the Zomba Group and its subsidiary Jive Records, has an estimated fortune of £1.3bn.
According to the Sunday Times, Lord Lloyd-Webber's earnings have dropped by £20m to £680m.
Sir Elton John is at number seven, having swapped places with Sir Mick Jagger, who this year sits in eighth.
There is no change at numbers nine and 10, with Sting and Keith Richards taking those spots.
The Sunday Times will also publish the Top 20 young music millionaires, which sees Katherine Jenkins top the list with an estimated value of £13m.
Cheryl Cole has climbed two spots into second place, followed by Leona Lewis, Katie Melua and Joss Stone.
Charlotte Church, who jointly topped the list last year with Jenkins and Lewis, has slipped to sixth spot.
Adele, who has scored a major hit with her second album 21, debuts in ninth place, tying with Lily Allen, Natasha Bedingfield, Duffy and Amy Winehouse.
Each of those singers have an estimated wealth of £6m.