The acts keeping Kate Bush in the spotlight
Kate Bush has gone on tour only once in her long career - in 1979. As she releases an album of re-worked songs, meet the acts who are keeping her music in the spotlight.
Bush was just 20 when she completed The Tour Of Life after topping the charts with Wuthering Heights the previous year. In a recent interview, the 52-year-old singer hinted that she might like to perform live again.
But for now it is a handful of dedicated singers and musicians who are performing her songs live on stage.
FAKE BUSH
Lucy Bundy is at pains to point out that her one-woman show is not a tribute act.
"It is an affectionate comic salute, much of the show is tongue-in-cheek but nothing is disrespectful because I am a huge Kate fan."
Her act came about "as a result of a drunk experiment with a karaoke machine" in Bradford back in 2000.
Bundy's rendition of Wuthering Heights led to victory in a sound-alike competition and a tour on the northern working men's clubs circuit.
"I perform in other acts that are comic by nature, so there's a good level of louche banter," the Brighton-based performer explains.
"It's very intimate and the audience is invited in to join me as I reflect on what bits of the song might mean."
Audiences are promised "sparkly leg warmers, lashings of eye-liner, ballet shapes, catsuits and tutus, and startling falsetto..."
Like the real Kate Bush, Bundy is now reworking the songs in her repertoire to satisfy her "little cult following".
Recent shows have included Fake Bush Unplugged - with a jazz pianist - and Fake Bush goes to Bollywood.
"It was Wuthering Heights with sitars!" says Bundy.
So what is it that she loves about Kate Bush?
"She writes from the heart, she writes with a simplicity and bravery.
"People say how funny there's a song about a washing machine [Mrs Bartolozzi - from the album Aerial] but it's so moving, what she she writes is profoundly beautiful and completely original."
As well as her various stage personae, Bundy is an arts therapist and runs a business making made-to-measure dog coats.
Would Fake Kate ever want to meet the real Kate?
"I'd love to see her live," says Bundy. "It would be very nice to talk to her, I suppose I'd be a bit nervous that she'd think I was some stalker."
Fake Bush performs as part of the Brighton Festival Fringe at The Brunswick on 15 May.
HOUNDS OF LOVE
Named after Kate Bush's acclaimed fifth album, the Hounds of Love were formed about three years ago by Richard Ames, the original tour manager of Kate Bush's Tour of Life in 1979.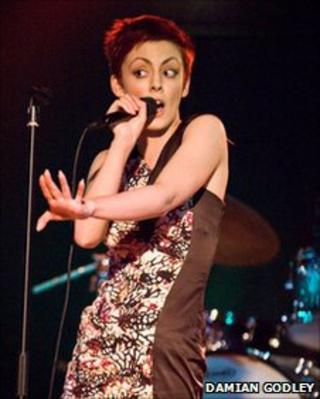 "I set it up because of the amazing amount of great music that has been produced by Kate that people have never been able to experience live," Ames tells the BBC.
"Having been a tour manager all my life, I love live music and it was a project that got under my skin. I noticed there really wasn't anything similar out there - no-one had been mad enough to try it."
The Hounds are a six-piece band fronted by Rhiannon Bradbury, who took over vocal duties in 2010 from previous singer Josie Mills. The band members live around the country but rehearsals take place in London - at the appropriately-named Bush Studios in Shepherd's Bush.
The focus is on musicianship, says Ames.
"We've gone down the musical route - the girls haven't tried to copy Kate's voice but they can hit those high notes. It's a musical performance, an interpretation of what is highly-worked studio music."
The Hounds' set includes songs from Bush's whole career. "Even obtuse ones like Mrs Bartolozzi which keeps the audience fairly quiet for a while." The band even has its own musical director.
"It's fairly complex music," explains Ames. "So for musicians it's a joy to get involved, it isn't three-chords Status Quo."
How much call is there for a Kate Bush band?
"We've done about 30 gigs, but it's hard getting shows where the players can walk away with a few quid in their pockets. The audience is mainly hardcore Kate Bush fans from the 70s and early 80s - and their kids!"
Ames points out that Kate Bush has kept her fanbase over two generations.
"Time and time again you hear young female artists naming her as an influence. Kate was one of the first female artists to be more than just a singer. She was a performer, a dancer.
"On the Tour of Life in 1979 Kate was the first singer to use a headset microphone. She was way ahead of her time. Nowadays they are all doing it."
NEVER FOR EVER
"People call me Kate occasionally which is quite strange," says Penny Murison - singer with the Cheshire-based Never For Ever.
The four-piece band has been gigging for about two years, starting off on pub stages with a recent move towards bigger auditoriums.
"It's a very theatrical show," says Murison, a trained dancer. "I've taken a lot of movement from the videos, and some from The Tour of Life. I love waving the sword around during Babooshka."
She names The Red Shoes as another highlight: "Because I've done dance training I can dance en pointe in a pair of red ballet shoes when I'm singing. That one always goes down well, but it leaves me out of breath so we have to do it just before the interval!"
The singer, who lives in Northwich, cites The Hounds of Love as the first Kate Bush album she remembers. "My sister owned it and I used to listen through the wall. It had quite impact on me."
The Never For Ever set includes songs from the album's conceptual latter half - The Ninth Wave - including Under Ice and Hello Earth.
It's that kind of originality, says Murison, that makes Kate Bush such an interesting and challenging musical project.
"The vocal range is enormous," she says, "Hammer Horror goes right up to a B flat which would be high for an opera singer. It's nice to have something to to get your teeth into."
She adds: "One of the hardest things was trying to get the voice right so it didn't sound comic, especially on Wuthering Heights where the voice is really quite squeaky. It's very easy to go over the top."
The band plays about one gig a month, with an appearance at East Yorkshire's Tribfest lined up for August.
"It's not your run-of the mill tribute," says Murison. "It's the nearest you can get to seeing Kate Bush live.
"I was worried that people would say, 'How dare you do do this?' but most fans appreciate it for what it is - a live performance in the way that Kate, hopefully, intended the songs to be performed. It is a fantastic feeling."
Kate Bush's Directors Cut is out on Monday.