Ticket sellers agree to anti-fraud move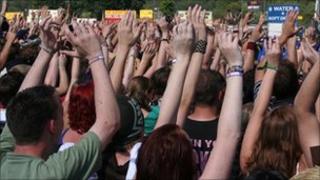 Two of the biggest live event organisers in the UK have agreed to a police idea to protect people from fraudulent ticket websites.
Festival Republic and Livenation will send out tickets as soon as possible, rather than waiting, sometimes for six months, until just before performances.
Police say the delay makes it difficult to prove fake sites did not have the tickets to sell in the first place.
The National Fraud Authority says £168m is lost annually through ticket scams.
Unintended consequence
Genuine ticket sellers claim the delay in sending out tickets is meant to limit the time counterfeiters have to copy the originals.
But an unintended consequence of this has allowed tens of thousands of people over the past five years to buy tickets from fraudulent websites, without realising the tickets will not arrive at all until it is too late, reports BBC Radio 4's You and Yours.
Fraudsters claim their suppliers have let them down or that they have simply gone bust.
Police have reached an agreement with two of the biggest concert organisers, including Festival Republic, which is behind the Leeds and Reading festivals, that tickets will be posted immediately to customers. They will then assess the impact on counterfeiting.
Det Ch Supt Steve Head, from the City of London Police, says promoters' delay in the sending of tickets makes it difficult to prove fraud, and that printing the tickets earlier could be the key.
"We believe that would stop a lot of people being the victims because we'd be able to act on it quicker, convicting the kind of people we want to convict," he added.
"It's not about business; they are fraudsters"