John Lennon microphones up for auction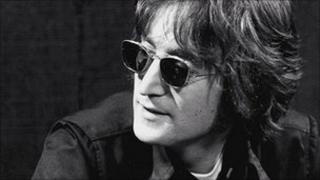 Microphones and equipment from John Lennon's home studio, in which he recorded early solo albums and hit song Imagine, are to be sold at auction.
The former Beatle had the equipment installed at his Georgian manor house estate at Tittenhurst Park, near Ascot, in 1970.
The house became the recording venue for the Plastic Ono Band and Imagine albums.
The microphones are expected to fetch at least £5,000 each.
Lennon was joined by his wife Yoko Ono and fellow Beatles members Ringo Starr and George Harrison in using the microphones during recording sessions.
Recording equipment specialist seller MJQ Ltd, which is handling the sale, is also selling a mixing console from London's Abbey Road studios, which has been used for recordings for the past 18 years.
An acetate disc used for mastering recordings, in which all four Beatles have etched their names, is expected to sell for tens of thousands of pounds.
A coffee percolator owned by Starr - who later acquired Lennon's home - will also be offered up for sale.
The online sale begins on 11 May.