BBC One controller to cull male crime-fighters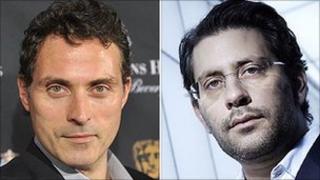 BBC One controller Danny Cohen has said he plans to limit the number of male detectives in the channel's dramas.
Zen, starring Rufus Sewell, was axed because there were already enough male crime-fighters on TV, he said.
Sherlock, Luther, Wallander and Inspector George Gently are among other BBC shows to feature male sleuths.
"I felt that we risked having too many male detectives and arguably we had maybe too much crime," Cohen told the Broadcasting Press Guild this week.
"Detectives and crime is the real staple of quite a lot of BBC, but also a huge amount of ITV drama," he continued.
"One of the things I want to do is to broaden the palette a bit."
Zen, set in Rome, ran for one three-episode series in January, attracting an average of 5.7 million viewers.
Fresh ideas
Recently the long-running Waking the Dead, starring Trevor Eve and Sue Johnston, came to an end on BBC One.
A spin-off called The Body Farm, centred on Tara FitzGerald's character Dr Eve Lockhart, is currently being filmed.
At a Broadcasting Press Guild lunch on Wednesday, Cohen said the channel would still retain a number of quality crime shows.
But some programmes had to make way for fresh ideas, he added. "You can't keep doing everything if you want to bring in new things."
Vera, a new female-led detective show starring Brenda Blethyn, begins on ITV1 on Sunday.