MasterChef crown goes to young American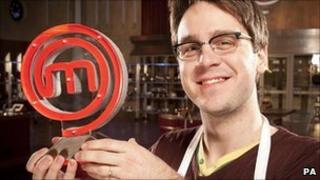 Bar manager Tim Anderson has been crowned the winner of the latest BBC One MasterChef series.
The 26-year-old American beat finalists Tom Whitaker and Sara Danesin to become the youngest person to take the coveted title.
Judge John Torode said Anderson's cooking was the "best culinary explosion" the programme had ever seen.
The winner's final meal included a Japanese noodle dish with truffled lobster and a selection of puddings.
Wednesday's episode saw the finalists make lunch in the Australian rainforest, cater for a wedding in 35C (95F) heat and cook at three of New York's finest restaurants.
"It is such a good feeling," said Anderson. "I'm very proud of the accomplishment.
"Tom and Sara are outstanding cooks and I never really thought I had a chance to beat either of them."
"I think all three were amazing, but Tim was in a different world altogether," said John Torode.
"He had influences from Norway, Japan, America, Australia and the UK."
"Inventive is one thing but inventive and delicious is nothing short of incredible," added fellow judge Gregg Wallace.
Anderson was raised in Wisconsin until he was 18 when he moved to Los Angeles to attend college. He later lived in Japan.
The budding chef, who lives in north London and runs a bar near Euston station, said his "big, silly, long-term goal" is "to have an empire".