BBC to screen man's final moments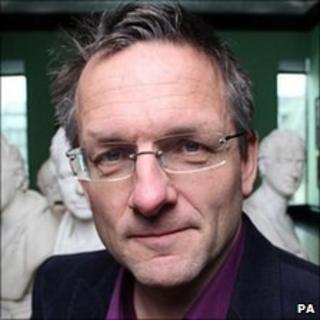 The death of an 84-year-old man is to be broadcast on BBC One next month as part of a new series about the life cycle of the human body.
Science presenter Michael Mosley told the Radio Times it was important not to "shy away from talking about death and, when it's warranted, showing it".
"There is a case to be made for filming a peaceful, natural death," he added.
The passing will feature in the second episode of Inside the Human Body, to be aired on BBC1 on 12 May.
The man, identified as Gerald, died at home on 1 January after suffering from cancer.
Speaking to the Radio Times, Mosley accepted that some people would criticise the broadcast, which forms part of a programme looking at the body's survival mechanisms.
"I know that there are those who feel that showing a human death on television is wrong, whatever the circumstances," he said.
Programme makers approached a number of hospices and cancer charities to find someone who was willing to be filmed in their dying moments.
When Gerald was approached about being filmed in November last year, he said he agreed because he hoped it would help others.
The final moments of a man's life were previously filmed in Right to Die?, a documentary screened on Sky's Real Lives channel in 2008.
Motor neurone disease sufferer Craig Ewert was shown ending his life at the Dignitas clinic in Zurich in 2006.