Mark Rylance dazzles Broadway critics in Jerusalem play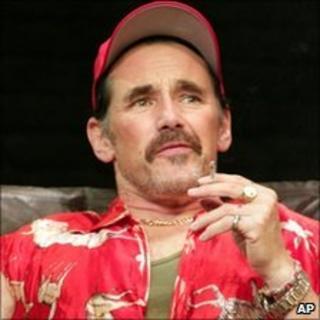 British actor Mark Rylance has become the toast of Broadway after reprising his award-winning role in the London stage hit Jerusalem in Manhattan.
According to the New York Times, his portrayal of a nonconformist living in rural England in Jez Butterworth's play is "truly a performance for the ages".
The New York Daily News agreed, saying the 51-year-old presents a "touching portrait of a magnetic maniac".
Jerusalem was first staged at London's Royal Court theatre in 2009.
Ian Rickson's production - which also stars Mackenzie Crook from BBC sitcom The Office - moved to London's Apollo theatre the following year.
In the Daily Telegraph, critic Claire Prentice says Rylance is "manic and mesmerising" in his role as drug-dealing rogue Johnny "Rooster" Byron.
"Though some of the nuances and cultural references get lost in the translation, the power of Rylance's performance and Butterworth's poetic script are undiminished".
"The mind-set of its characters is definitely British provincial," wrote Ben Brantley in the New York Times.
"Yet the New York production - which retains half its original British cast and has been revised for clarity of cultural references - turns out to be rousingly accessible on these shores."
"Rylance's deliciously subversive performance triggers both barrels of Butterworth's funny if disconcerting play," wrote Variety's Marilyn Stasio.
"Strutting and staggering around in garish shirts and gypsy jewellery... he gives beaucoup charisma to the earthy party animal."
Jerusalem had its official opening night on Thursday and is scheduled to run at New York's Music Box theatre until 24 July.
The theatre previously played host to Rylance's previous Broadway appearance in satirical comedy La Bete, which also came to New York following a successful London run.