Eurovision Song Contest 2011: The rivals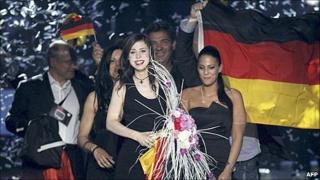 Acts from 43 countries are converging in Dusseldorf, Germany for the 2011 Eurovision Song Contest.
Two semi-finals will whittle down the competition to 25 songs for Saturday's ultimate showdown, and the battle to stand out from the crowd is intense.
But trying to be different is tough, and there are some acts apparently scenting similar territory.
Here is a look at a selection of this year's offerings which seem most likely to be squaring up for a musical showdown.
Cultured and classy
Eurovision has a reputation for pumping out perky pop tunes and power ballads, but some countries choose to take a leftfield - sometimes risky - turn in a bid to make their mark.
This year, France has plumped for a slice of operatic grandeur, delivered by young, long-haired tenor Amaury Vassili.
The lyrics of Sognu are delivered in the Corsican language, while the song already has the bookmakers in a flurry.
But recent attempts to bring opera to Eurovision have failed to hit the heights, and this effort could leave voters scratching their heads.
Italy, making its long-awaited comeback to the contest after a 14-year break, is also refusing to plough the usual pop furrow.
Jazz musician Raphael Gualazzi will bring his deft piano skills, rasping trumpet and Ratpack cool to the German stage.
One of the host nation's previous contenders, Roger Cicero, made a comparable attempt, but it stuttered home in a lowly 19th place.
France: last victory in 1977. Italy: last victory in 1990.
Eurovision royalty
Lena Meyer-Landrut, last year's winner from Germany, is taking the rare step of returning to defend her title on home soil - a feat never achieved in the contest.
Her kooky, infectious and very modern song Satellite was a hit across Europe and practically made her a national treasure.
This year's offering, Taken By A Stranger, is sparse and quite moody and may fail to capture the spirit of 2010.
Israel's transsexual superstar Dana International, who swept to victory 13 years ago with her high-octane hit Diva, is also returning to the contest.
She is back with her own composition Ding Dong, considered less captivating than her winning track.
A note of warning to Dana: 1990s winners Charlotte Perrelli and Niamh Kavanagh returned a decade later and were both humbled in the grand final.
Germany: last victory in 2010. Israel: last victory in 1998
Double vision
After a traditional power ballad failed to recapture Ireland's Eurovision glory days last year, the country has invested its hopes in a very different act for Dusseldorf.
Identical twin brothers John and Edward Grimes - Jedward - will fly the flag with spiky bubblegum pop song Lipstick.
The pair made their name on the UK's X Factor show more for their entertaining performances than vocal talent, and scored a big hit with a cover of Ice Ice Baby.
But their unique selling point in Germany has been hijacked by Slovakia's sultry female twins Daniela and Veronika Nizlova, who will be singing a softer tune called I'm Still Alive.
The two pairs have been drawn in the same semi-final, while a set of twins has yet to grab the Eurovision crown.
Ireland: last victory in 1996. Slovakia: has not won
Boys to men
From Bucks Fizz to rock monsters Lordi, groups have a decent record at the Eurovision Song Contest. This year sees two male quartets in the frame, but are they in direct competition?
Denmark is sending boy band A Friend In London to Dusseldorf, with moderately plodding anthem New Tomorrow.
These lads play guitars, wear their offbeat fashion with a swagger, while lead singer Tim Schou has tattoos and a towering hairstyle.
The United Kingdom's hopes rest on an act who started out a decade ago and are returning as a man band after a considerable hiatus.
Blue have sold an estimated 13 million records and are tying their full comeback to Eurovision and self-penned tune I Can, which is being well-received by contest fans and the bookies.
Unlike their younger Danish counterparts, it's all about the vocals, some sparse choreography and a belief they are able to convince the UK that a song doesn't have to be cheesy to win Eurovision.
Denmark: last victory in 2000. United Kingdom: last victory in 1997
Blue unveil Eurovision 'anthem'
'Protest' singers
Eurovision Song Contest rules forbade any overtly political or inflammatory songs, but there are acts that seem to have an axe to grind this year if you listen carefully enough.
Portugal, facing economic woes and a European bail-out, is sending an ensemble of placard-touting comic performers to Dusseldorf.
Homens da Luta's song, Luta e Alegria (The Struggle is Joy), has a humorous basis, but with lyrics including "wearing a tight belt won't help much", they seem to be taking a satirical swipe at their country's plight.
But as one of the few songs not performed in English this year, the chances of it being widely understood are reduced.
Fresh-faced Finnish performer Paradise Oskar makes his point with a winsome ditty, an acoustic guitar and a cute da-da-dam chorus.
Don't let the 20-year-old's boyish charm fool you - the singer is making an impassioned plea to save the planet from ruin.
Whether his message will make an impact with viewers across Europe remains to be seen.
Portugal: has not won. Finland: last victory in 2006
Videos for all 43 Eurovision entries can be seen on the BBC's Eurovision website.
The semi-finals take place on 10 and 12 May and are screened on BBC Three in the UK. The grand final on 14 May will be shown on BBC One.