Dame Beryl Booker prize goes to Master Georgie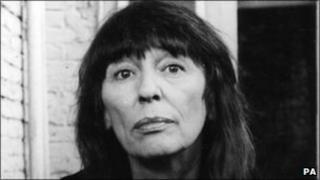 Dame Beryl Bainbridge fans have voted her book Master Georgie the winner of The Man Booker Best of Beryl prize.
Man Booker Prize organisers had asked readers to vote for their favourite of five Dame Beryl books shortlisted for the main prize - which she never won.
Master Georgie, shortlisted in 1998, beat Every Man For Himself in the running in 1996 by a handful of votes.
A bound copy of the book was presented to daughter Jojo Davies and grandson Charlie Russell at a party in London.
The prize's literary director, Ion Trewin, said he was "delighted to be able finally to crown Master Georgie a Booker bride".
Master Georgie, shortlisted in the year that Ian McEwan's novel Amsterdam won the prize, is set during the Crimean War.
Dame Beryl's other shortlisted books were The Dressmaker, nominated in 1973, The Bottle Factory Outing, recognised in 1974, and An Awfully Big Adventure, a contender in 1990 that was made into a film starring Alan Rickman and Hugh Grant.
Dame Beryl died in July at the age of 75.