US The Thick of It 'commissioned'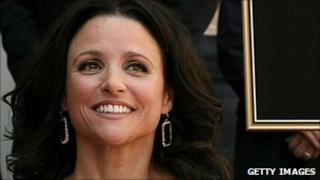 The Thick of It creator Armando Iannucci has had a US version of the political satire commissioned by US cable network HBO, reports have stated.
Seinfeld actress Julia Louis-Dreyfus will star as a newly elected US vice-president in Veep - a nickname for the position - Hollywood Reporter said.
The show focuses on former Senator Selina Meyer who discovers the job is nothing like she expected.
It is scheduled to begin production this autumn to be broadcast next year.
Also set to co-star in the Washington DC-set comedy is Anna Chlumsky - best known for starring in 1991 film My Girl - as Meyer's chief of staff.
Arrested Development actor Tony Hale will play the vice-president's right-hand man.
Iannucci will also serve as director and executive producer.
The writer and comedian is currently writing the fourth series of The Thick Of It, which won the Bafta for best situation comedy last year.