Sir Ian McKellen challenges Tate over Lowry works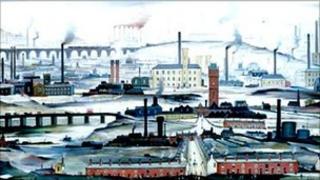 Sir Ian McKellen has challenged Tate to give its LS Lowry paintings away, saying it rarely hangs them in London.
Sir Ian said it was "a shame verging on the iniquitous" that foreign visitors to the capital should not see them.
Tate owns seven Lowry paintings. It also owns 16 drawings and prints that can be viewed, by appointment, at London's Tate Britain.
It said it planned to include Lowry paintings as part of Tate Britain's revamp, due to finish in 2013.
The artist, who died in 1976, is known for his crowd scenes depicting industrial life in the towns of north-west England.
Writing on his website, Sir Ian - who has made a TV programme about the artist - asked: "Why should it matter that the Tate Gallery in London (with its 23 Lowrys) has chosen not to display any of them for many years?
"His popularity needs no official endorsement from the Tate but it is a shame verging on the iniquitous that foreign visitors to London shouldn't have access to the painter English people like more than most others."
He said that, in the past, "silly lies have been thrown around - that Lowry was only a Sunday painter, an amateur, untrained, naive."
"If the Tate feels no responsibility to give the art-viewing public their favourite painters to view, perhaps they could let their stash go elsewhere, pass them on to a gallery like The Lowry, who share their visitors' tastes," he added.
The Lowry theatre and gallery complex in Salford is home to about 400 works by the artist.
Touring retrospective
Sir Ian also suggested that Lowry's home in Pendlebury, Salford - "still standing, empty, boarded-up and unmarked by a long-overdue blue plaque" - could house the Tate's collection making "a unique addition" to its "brand of museums".
Alternatively, he said, Tate could create an international "touring retrospective, with a twist - the exhibits would be for sale".
Noel Gallagher, meanwhile, who is also featured on Looking for Lowry - to be aired on ITV1 on Sunday - said of the paintings in the collection: "They're not considered Tateworthy. Or is it just because he is a northerner?"
A spokeswoman for Tate said the last time one of its Lowry paintings had been displayed was in 2005 when Industrial Landscape, 1955, was featured in the Picture of Britain exhibition at Tate Britain.
The same painting had been shown in BP British Art Displays at Tate Britain, from 2000 to 2004.
The work was lent to Nottingham Castle Museum in 1999 and had been displayed at Tate Liverpool before that, the spokeswoman said.
"Tate regularly lends Lowry paintings and is about to lend two paintings, Coming Out of School, 1927, and The Pond, 1950, to an exhibition in the regions," she said.
The Pond had been lent to The Lowry in 2004 for exhibition The Impossible View and had been shown at Tate Liverpool a year earlier, she added.