Tracey Emin welcomes new art gallery to Margate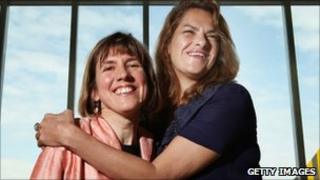 British artist Tracey Emin has welcomed a "spectacular" new gallery in Margate that its founders hope will help regenerate the Kent seaside town.
The 47-year-old wiped away tears as she entered the £17.4m gallery on Friday, built on the site of a boarding house frequented by JMW Turner in the 1800s.
"This summer will be one of the best Margate has had," said the artist, who was brought up in the town.
The Turner Contemporary gallery opens its doors to the public on Saturday.
Newcomers to the town, Emin continued, would find a place that was "different, edgy [and] sexy".
The artist, whose own work will be displayed at Turner Contemporary next year, admitted that she had initially been opposed to the two-storey structure.
"There was a point where I, along with other local people, didn't want it to happen," she told the BBC News website.
"But now I think David Chipperfield has done such a fantastic job," she added, citing the British architect commissioned in 2006 to design the building.
"There's so much light, and such fantastic views - who wouldn't be inspired doing a project here?"
Speaking at Friday's press launch, organisers said they hoped its opening would have a similar effect as the Guggenheim museum has had in Bilbao, Spain.
Since its opening in 1997, the Frank Gehry creation - featured in 1999 James Bond film The World is Not Enough - has become a mecca for lovers of both art and innovative buildings.
"What we've learnt from Bilbao is there's a desire to see contemporary art and also to see fantastic architecture," said Victoria Pomery, the new gallery's director.
"The arts in themselves will not regenerate Margate. But Turner Contemporary can open people's minds to different ways of looking at the world around them."
The first exhibition, Revealed: Turner Contemporary Opens, features a range of work that "explores the themes of imagination, discovery, wonder and the creative spirit".
It includes work by six contemporary artists and one painting by Turner himself - an 1815 rendering of a volcanic eruption, based on a drawing sketched by a first-hand witness.
Homage is paid to the artist in Ellen Harvey's mixed media installation Arcadia, a wooden structure based on Turner's own gallery in London.
Inside, the Kent-born artist has created a 360-degree panorama of present-day Margate made up of engraved mirrors placed on light boxes.
Other pieces include Limit of Everything, a rotating mechanical sculpture by Britain's Conrad Shawcross, and three suspended globes on which landscapes have been painted by the US artist Russell Crotty.
According to Emin, the gallery will attract as many as 10,000 people to the town during its opening weekend, an influx she said would have a knock-on effect on the local economy.
"All those people will be eating fish and chips at the local cafes, going to all the vintage shops, walking around the town [and] having tea," she said.
Not everyone is a fan, however. In the London Evening Standard this week, veteran art critic Brian Sewell expressed dismay at a "featureless" building he called "alien, brutal and bleak".
"Its presence is as aggressive and threatening as that of a hyena in a sheepfold," he wrote. "Nothing about it announces a benign purpose, nothing speaks of art and welcome."
"I haven't read his article but I know he was highly critical," Pomery told the BBC News website. "But everyone is entitled to their own view.
"I think the important thing is people come here and experience it for themselves."