Obituary: Bernard Cribbins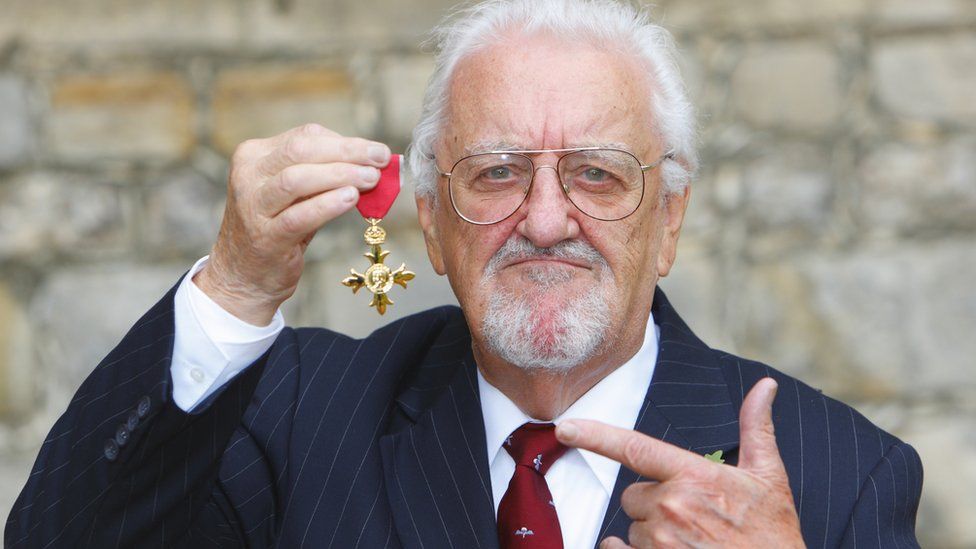 Bernard Cribbins was a multi-talented performer.
Actor, comedian, singer and raconteur: he had a go at everything from Shakespeare to pantomime, Jackanory to Top of the Pops.
He was the voice of the Wombles, Catherine Tate's cuddly grandpa in Doctor Who, and the irate-but-soft-hearted station master who tugged at our heartstrings in the 1970 film The Railway Children.
When he was nearly 90, he published an autobiography looking back on his years in show business in 2018. Its title was Bernard Who? 75 Years Of Doing Absolutely Everything - and its advice was simple.
"Do your best and be grateful for every single job".
Bernard Cribbins was born into a working-class family in Oldham, Lancashire on 29 December 1928.
These were harder times. Cribbins' mother worked barefoot in a local factory; his father was a champion "clog-fighter" - a method of settling disputes by kicking an opponent's shins until he begged to give up.
Home comforts were few and far between: a cold-water tap, a tin bath and an outside toilet that Bernard nicknamed "the long drop".
Life on stage began at Oldham Rep at age of 14, where he found himself appearing in a succession of small parts. They were just "two lines and a smile," he recalled - but it was enough to give him a taste for the bright lights.
Little could dent his ambition, not even a horrific accident in a production of Macbeth.
The play ended with the usual sword fight between Macbeth and Macduff. To save money on expensive fake swords, real ones were used instead. The actor playing Macbeth, Harold Norman, was fatally stabbed in front of him.
Cribbins' eight-year stint in Oldham was interrupted by National Service, where he served with the Parachute Regiment in Palestine during the 1947-1948 crisis.
"Six months of getting shot at; I don't recommend it," he said, many years later.
Later, when appearing as Wilfred Mott in Doctor Who, Cribbins proudly wore his regimental badge on the front of his woolly hat. His experience of being under fire in Palestine was even written into the script.
There were further spells in local theatre, where he turned his hand to Shakespeare and Tennessee Williams. In A Streetcar Named Desire, he played Stanley Kowalski - the part made famous on screen by Marlon Brando.
For Cribbins, the part may have been too far a stretch. "On the first night I took my T-shirt off and wiped myself down with it," he said, "and a man in the front row was sick."
In 1956, he made his West End debut in a musical production of A Comedy of Errors, moving on to a number of leading roles in plays such as Salad Days.
"There was no plan," he told one interviewer, "just a succession of musicals, comedy roles and revue, all of which I loved." He was rarely out of work.
The same year, he discovered his aptitude for children's television when he appeared in a live BBC production of Nicholas Nickleby.
His first film role came as a sweaty naval rating in a wartime drama, Yangtse Incident. To his surprise, Cribbins found that he enjoyed the silver screen as much as being on stage.
"It was quite different from the theatre," he told The Stage, "requiring more thought and stillness. I remember the cameraman telling me not to blink during a tight close-up otherwise my eyelashes would look like a couple of giant condors taking off."
He went on to act alongside Peter Sellers in Two-Way Stretch, a comedy about a group of convicts planning to break out of jail, rob a train and then return to their cells to establish the perfect alibi.
Crime - on screen at least - continued to pay as he followed up with The Wrong Arm of the Law and Crooks in Cloisters.
In 1962, he released two comedy records: Hole In The Ground and Right Said Fred, both of which reached the UK Top 10 and were produced by George Martin, who would shortly sign the Beatles.
Cribbins ultimately decided to quit the novelty record business. "Novelties tend to wear off after a while," he said. But, years later, he was asked to sing Hole In The Ground at George Martin's memorial service at St-Martin-In-The-Field.
"Everybody enjoyed it," said Cribbins proudly. "It got huge applause and Elton John gave me a hug and said: 'Why didn't you do Right Said Fred as well?'"
A natural comedian, Cribbins came to the attention of the Carry On team - playing Midshipman Poop-Decker in Carry on Jack. Carry on Spying followed, a production that suddenly seemed less fun when Cribbins was "shot point blank in the face by an extra with a gun".
Firmly established as a versatile character actor, he appeared alongside Jenny Agutter in what became a classic: The Railway Children, in 1970. The climactic scene sees Bobbie - played by Agutter - meeting her father on the platform.
"If you don't shed a tear when she shouts, 'Daddy, my daddy!' you're made of wood," said Cribbins. "I always well up when I watch it. But Jenny, who remains a close friend, doesn't. Hard as nails, she is!"
He also became a regular in pantomime, especially as Widow Twankey - and found enduring fame as a voice actor: narrating road safety films as Tufty the Squirrel and - in 1973 - becoming the voice of The Wombles.
Based on Elizabeth Beresford's books, the stop-motion animation series ran for 60 episodes, with Cribbins voicing all of the environmentally friendly characters.
"They were lovely to do," he reminisced. "Although there was one who didn't appear that much, MacWomble the Terrible - the Scottish one, second cousin to Great Uncle Bulgaria. He sounded like Bulgaria on something."
He also voiced Buzby, the little yellow bird that appeared in a series of commercials, first for the Post Office, and then its telephone successor BT.
And he made a noteworthy appearance in an episode of Fawlty Towers as the voluble spoon salesman, who is mistaken for a hotel inspector by an increasingly manic Basil Fawlty.
Cribbins became a fixture on the BBC's Jackanory: becoming the longest-serving story teller on the series with 111 appearances. He was later critical of the BBC's decision in 2006 to revive it using electronic animation.
"I do wish that it could be brought back in the form that it used to be, with someone sitting one-to-one with a camera. It's like you are talking to your children at bedtime, they look at you and don't see anything else - they don't see flashing lights and CGI and all the rest of it."
Throughout the 1980s and 1990s he continued to work in films, television and radio, including a part in the poorly received Carry on Columbus, which was destined to become the last of the long-running film franchise.
There was a brief spell as lecherous Wally Bannister in Coronation Street, before gaining a new generation of fans in 2007, starring as Wilfred Mott in the Doctor Who Christmas special, Voyage of the Damned.
Cribbins had first appeared alongside a time lord in 1966, with Peter Cushing playing the Doctor in Daleks Invasion: Earth 2150 AD. In 1974, he narrowly lost out on becoming the legendary character himself, when the part went to Tom Baker.
Becoming Catherine Tate's grandfather - after a four-decade break - made him the first actor to travel in the Tardis as two separate characters.
In 2009, Cribbins was awarded a special Bafta to mark his contribution to children's film and television. An OBE followed two years later.
Away from work, he was a keen fly fisherman who voiced a number of fishing documentaries and shared a house in Surrey with his wife, Gillian, whom he met and married while at Oldham Rep.
Still working in his late 80s, he was asked if he had any future ambitions. The man who had done just about everything had one.
"I'd still like to do a Western," he said. "I could play Clint Eastwood's dad!"