Are You Being Served? star Trevor Bannister dies at 76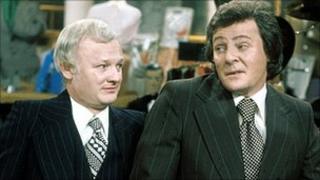 Are You Being Served? star Trevor Bannister has died aged 76, his brother has confirmed.
The actor suffered a heart attack on Thursday at his allotment in Thames Ditton, Surrey, John Bannister said.
The actor was best known for his role as ladies' man Mr Lucas in the 1970s BBC sitcom set in a department store but he also worked in the theatre.
"He was a good lad, we were all very fond of him," Mr Bannister told BBC News.
He added his brother had been doing some repair work on his shed when he became ill.
Frank Thornton, who appeared as Captain Peacock in Are You Being Served?, told the BBC he had "many, many happy memories" of his co-star.
"He was a very good friend over a long time," he said.
"We often met with him and his wife - he was recently at my 90th birthday celebrations in January and that was the last time we saw him. We shall miss him sorely."
Born in Durrington, Wiltshire, and the youngest of three children, Bannister did two years' National Service before going to the London Academy of Music and Dramatic Arts.
During his career, which spanned five decades, he appeared in TV shows including The Avengers, Dixon of Dock Green, The Saint and Z-Cars.
He also made regular appearances in the theatre and in pantomime.
More recently, the actor had a stint in the long-running BBC series Last of the Summer Wine.
In 2009, the actor led the tributes to his Are You Being Served? co-star Wendy Richard and gave a reading at her funeral.
Speaking to the BBC at the time about his experiences of working on the sitcom, he said: "The joy of that particular show was the fact that most of us had known each other before we came to do it.
"We loved working with each other and had a lot of respect for each other. I think that fun and enjoyment conveyed itself through the screen."
He is survived by his second wife Pam and three sons Simon, Timothy and Jeremy.