Writer John Niven courts controversy with third book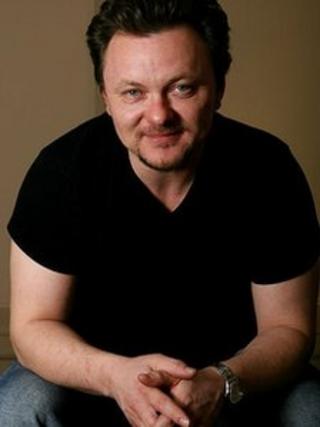 John Niven - writer of the best-selling music industry novel Kill Your Friends - has returned with his third book The Second Coming, which portrays Jesus as an idle hippy who spends all his time in heaven partying.
"I should say that I fully support anybody's right to worship and believe in anything they want to believe in," says Niven, when asked if he is worried about upsetting religious groups.
"But I equally support anybody else's right to mock that.
"Besides I'm sure He's got better things to be getting on with than taking notice of some minor British novelist."
In the book, God returns from holiday only to discover that Jesus has forgotten to oversee Earth.
Once a peaceful place, racism, violence, terrorism and poverty have taken over.
Angered by the chaos that has occured in his absence, God orders Jesus to try to put things straight, prompting a comic and captivating journey.
Jesus' mission is to spread the message that we should all be kind to each other. But getting that message across proves to be difficult.
While on Earth, Jesus comes in for some rough treatment but nothing upsets him other than the way people behave towards one another.
The story started out as a screenplay, which Niven dropped after realising it would cost too much to make a movie, because of the multiple scene changes.
But he is still hopeful it will make it to the big screen one day, saying it will make a "very funny controversial, movie".
And controversy is one thing Niven is not afraid of.
In 2009, shortly after Michael Jackson's death, Niven wrote an article for The Independent, criticising people who were calling him a hero.
In the piece, entitled: "Michael Jackson: Bad! And very dangerous", he argued that the abuse claims, for which Jackson was cleared in 2005, had been forgotten.
Niven says he was surprised at how little criticism he received over the article.
"Funnily enough there was very little comeback," he says.
"But then a month later I wrote a piece that was fairly critical of The Beatles and the reissue of their back catalogue. I got a deluge of abuse and hate mail.
"I think in Britain you can say anything about anyone, but don't diss the Beatles - they're royalty in this country."
Critically acclaimed
Before he began writing, Niven was a talent scout in the music industry.
But he admits he was not the best at finding new talent, after he turned down both Coldplay and Muse.
He laughs when explaining how he missed out on signing two of the biggest British bands in the last 10 years, adding: "I think there were more bands I missed, I wasn't very good.
"I was only interested in signing things that I really liked, rather than what might work in the market place."
But his experience in dealing with demanding artists and chasing the next big act provided him with enough material to write his first novel, Kill Your Friends.
The book was praised by critics and became a best-seller, eventually translated into seven languages.
Niven admits his agent was initially dubious about the story, calling it "a hard sell" and it was, in fact, turned down by 18 publishing houses.
But when Random House picked it up, the book made its mark.
"Back then the perceived wisdom was that books about the music industry don't work. People don't want to read about it. But I think Kill Your Friends was real enough for people that it worked," Niven says.
"And sure enough there was a bit of a scramble to sign music industry novels after it came out."
Two novels later, Niven knows just how hard it is to become a successful writer.
"The odds are so stacked against you, it just seems to me that I was doomed to fail," he explains.
"I knew the statistics from working in the music industry and seeing how many bands would submit demos to record companies.
"But in the end I was getting on and the thought of not writing and never having given it a go was making me more miserable."
But Niven says writing is a lonely business: "I think it was Stephen King who once said: 'It's like crossing the Atlantic in a bath tub'."
He writes on a daily basis from a shed at the bottom of his garden and refuses to go back to his house until 1,000 words have been written.
"Some days it can take just a couple of hours, but some days you're there banging your head on the desk."
Despite that, Niven says he does not suffer from writer's block: "Touch wood, I haven't had it. I know what the next four books are going to be," he says.
"The big problem that writers suffer from is a dearth of ideas. I was given a great piece of advice, which I would say to anyone out there who wants to be a writer - have your characters do something and then you'll have something to change.
"If you're sitting there crying and staring at a blank page, do something."
The Second Coming is out now.