Titanic cast announced for ITV1 mini-series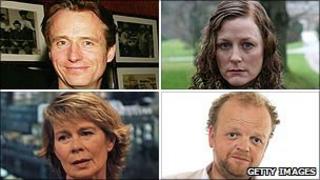 Linus Roache and Celia Imrie are among the actors lined up to star in ITV1's Titanic mini-series, to be written by Downton Abbey creator Julian Fellowes.
Geraldine Somerville and Toby Jones, who have both featured in the Harry Potter films, will also have roles in the series.
The four-part drama will be aired next year to coincide with the centenary of the 1912 sinking of the luxury liner.
According to ITV1, filming will begin in Hungary later this month.
Producer Nigel Stafford Clark said the drama would "tell the story in a way that is bold, fresh and gripping, with all the human detail that television does so well".
"We hope it will be a fitting tribute to the events of that night."
Roache, the son of Coronation Street veteran William, appeared alongside his father in the ITV1 soap last year.
Somerville, meanwhile, was seen in 2001 film Gosford Park, which earned Fellowes an Oscar for his original screenplay.