Sir Simon Rattle concert to be screened in 3D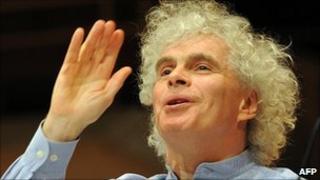 An orchestral concert will be screened in 3D at cinemas across the UK for the first time, organisers have said.
The film will feature Sir Simon Rattle conducting the Berlin Philharmonic performing Mahler's Symphony No 1 and Rachmaninov's Symphonic Dances.
A Musical Journey will be screened in more than 60 cinemas from 9 to 29 May.
Director Michael Beyers said the aim of the project is to give cinemagoers the sensation of being "in the middle of music and life."
Mahler's First Symphony was filmed in Singapore's Esplanade Concert Hall in November.
Speaking to The Guardian newspaper, Stanley Dodds, a violinist with the Berlin Philharmonic, said: "Nothing of its kind has ever been done before.
"It gives the feeling of being in an orchestra. When you see the winding tubes of a horn, or a very nice old Italian violin in 3D, you feel you could touch it.
"You can observe the concentration and intensity of the musicians' facial expressions and body language."
German 3D camera operatives and technical teams from Japan and the US came to Singapore to film the concert.
Productions of opera and ballet have already been screened in 3D on cinema screens around the UK, with Giselle becoming the latest to hit screens this month.