Kate Bush 'delight' over James Joyce track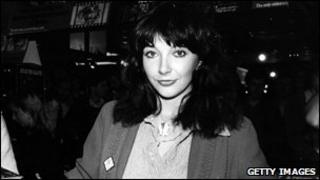 Singer Kate Bush has been given the green light to use text from James Joyce's Ulysses in a song - more than 20 years after first requesting it.
The reclusive performer had wanted to use the words of Joyce's character Molly Bloom for the title track of her 1989 album The Sensual World.
But she was refused and had to write her own lyrics for the track.
Now Bush, 52, has re-recorded the song - renamed Flower of the Mountain - with Joyce's own words.
"I am delighted I have had the chance to fulfil the original concept," she said.
The track will be included in Bush's forthcoming album Director's Cut, a collection of reworked songs from her Sensual World and Red Shoes albums.
"When I came to work on this project I thought I would ask for permission again and this time they said yes," she added.
Another track from The Sensual World, Deeper Understanding, now features the voice of her son Albert and is being released as a single.
The video for the track includes an appearance from comic Noel Fielding, who recently mimicked Bush on BBC One's Let's Dance For Comic Relief.
Director's Cut is released on 16 May. Bush's last album, Aerial, was released in 2005.