Elizabeth Taylor's love letters up for sale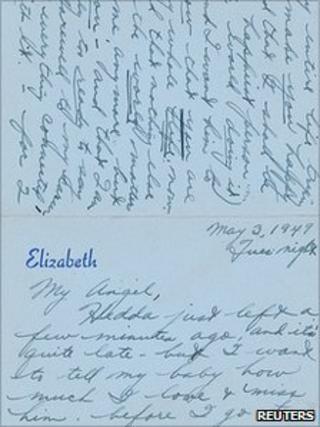 A collection of letters written by a young Elizabeth Taylor to her first love are to be sold at auction.
The 66 letters were penned by the late actress when was she was 17 years old to her first fiance, William Pawley, the son of a former US ambassador.
Written between March and November 1949, they give an insight into Dame Elizabeth's rise to Hollywood fame.
The actress died in Los Angeles last month after a long history of ill health aged 79.
In one letter dated 28 March, Dame Elizabeth wrote: "I want our hearts to belong to each other throughout eternity.
"I want us to be 'lovers' always, even after we've been married seventy-five years and have at least a dozen great-great-grandchildren."
In another letter she told Mr Pawley she was "completely convinced that you are the only man in the world that I shall ever love".
By September, the actress was writing about giving back her diamond engagement ring at her fiance's request, but appeared reluctant to end the relationship saying: "I know with all my heart and soul that this is not the end for us".
The Oscar-winner went on to have seven husbands.
The collection was bought two years ago from Mr Pawley, who is now retired, a spokesman for RR Auctions said.
"We rarely come across a collection as rich as this, the letters are in a pristine condition," Bobby Livingston said.
"William Pawley clearly loved and cherished them for all these years."
The online auction will take place between May 12 and 19.