Charlie Sheen live show bombs in Detroit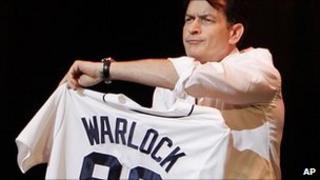 Actor Charlie Sheen was booed off stage by fans on the first night of his Violent Torpedo Of Truth: Defeat Is Not An Option one-man show in Detroit.
The former Two And A Half Men star had initially been greeted with rapturous applause, but fans reportedly began to walk out within 15 minutes.
Sheen had promised to tell "the real story", but critics said he instead gave "a series of nonsensical rants".
The show ended after an hour when Sheen failed to return after a musical break.
Entertainment Weekly described the show as an "unmitigated disaster".
"The padded and disjointed show was a hodgepodge of video clips and Sheen-isms that felt hastily assembled and misjudged the patience of even the hardest of hardcore fans," it said.
The Hollywood Reporter said: "Call it 'tiger blood' or 'Adonis DNA' if you will. Just don't call it entertainment."
Sheen opened with a monologue saying: "I am finally here to identify and train the Vatican assassin locked inside each and every one of you."
After talking about his "napalm dripping brain" and describing himself as "a giant and leaky bag of mayhem", he added: "Is anybody else as confused by this as I am?"
He also showed film clips including one he wrote, produced and directed entitled RPG, but was abruptly halted after more booing from the audience.
The 45-year-old responded to one heckle by saying: "I already got your money, dude."
He later told the crowd the show was "an experiment" adding: "You paid your hard-earned money without knowing what this show was about."
Fans walked out chanting "Refund!" and were quick to express their disappointment outside.
"I was hoping for something. I didn't think it would be this bad," said Linda Fugate from Detroit, who said she paid $150 (£93) for two tickets.
"I expected him to at least entertain a little bit. It was just a bunch of ranting," said Rodney Gagnon, who travelled from Ontario in Canada for the show.
Others blamed the audience: "I thought it was good. It was what I expected," Lori Caputo of Battle Creek, Michigan, told USA Today.
"I was disappointed in everybody booing."
The Detroit performance was the first of 22 sold-out planned shows in 20 US and Canadian cities.
Sheen's publicist Larry Solters declined to comment after the show.
Sheen was fired from hit comedy Two and A Half Men last month amid a frenzy of US media reports on his controversial personal life.
Meanwhile, Martin Sheen has spoken to the BBC about the "roller coaster ride" his family have experienced in trying to support his son.
"Charlie is dealing with the most profound problems and addiction - there's no secret, his behaviour has been an example of that," he told Kirsty Young on Radio 4's Desert Island Discs.