Mill weaves tale of faded dreams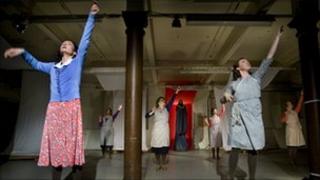 A derelict mill in Bradford is being used to stage a play about the thousands of textile workers who once worked there, with the help of its former employees.
The vast weaving shed in Drummonds Mill was once full of machinery, people and deafening noise. Now it is vacant but for the metal pillars and beams that hold it up, and the ghosts.
The emptiness serves to highlight how much has changed since its hot, pungent, clattering heyday.
In this derelict chamber, the ghosts of that bygone age flicker in and out of view.
As lights go on in different parts of the room, distorted snapshots of mill workers' lives come into view before fading away again.
In the middle, about 100 people turn around or shuffle to get a better view of each new apparition.
We are watching The Mill: City of Dreams, a promenade theatre performance that leads the audience through this vast industrial relic to tell the stories of the frustrated dreams of those who worked here, and in places like it.
Drummonds opened in 1861 and was once at the heart of the textile trade, famous for its suit material. But it closed in 2002, unable to compete with cheaper foreign operations.
The ghosts have been put there by Madani Younis, the show's director and artistic director of the Bradford-based Freedom Studios theatre company.
"I had always been struck by these iconic mills that fill the cityscape," he says. "I was always taken by these buildings and the people that came to inhabit them.
"This is a town that became a city because of the textile industry. Most of them are shells of their former selves."
To make The Mill, Younis spent a year interviewing people who came from around the world to work here.
After World War II, thousands came from Italy, Ukraine, Poland, India, Pakistan and Bangladesh as political refugees or economic migrants.
They were attracted by the vision, he says, of a life and work in Bradford that, they soon discovered, did not quite match the reality. The play is about those dreams of a new start, and how they panned out.
Younis used the stories he was told by former mill workers to shape the script.
He even held a mill workers' reunion in the city's Ukrainian Club to gather recollections, laying on a brass band, a slideshow of old photos and an afternoon tea of salmon and cucumber sandwiches for more than 100 ex-workers.
"It was the high tea that the mill owners at the height of the textile industry would have been served, and clearly not what the workers themselves would be served," he says.
The character of Maria, a young Italian woman who arrives unable to speak English and with a rose-tinted view of her destination, was directly based on interviews with such ladies, he says.
"Italian women were deemed to have nimble fingers, and so were then seen as the ideal candidates for burling and mending, which was one of the textile processes," Younis says.
"Maria comes from a rural community, from a relatively large family, essentially an economic migrant. The choices for women at the time in Italy were very limited.
"That is a direct parallel of the journeys of many of the women that came, and on that Maria's character has been born.
"Many of them were sold a dream about Bradford as this quintessential English place. Often Italian women would stay in hostel accommodation that was provided by the mills themselves.
"On arriving, for some, the dream that they were sold was not what they encountered. But the reality of going back, where there weren't many options available to them, meant they had to continue forward."
Now, the mill, like the Manningham area where it is situated, is looking for a new start itself.
Until now Manningham has been more infamous as a red light district, frequented by the Yorkshire Ripper and the Crossbow Cannibal, and the site of riots in 1995 and 2001.
Plans to develop the mill into flats and business units have come to nought and its owners hope the play may lead to a brighter future.
Younis, whose previous productions include Streets of Rage, about the 2001 riots, explains that the local community is at the heart of everything Freedom Studios does.
"We do not create our art, voyeuristically looking on at society from the edges and choosing to make comments in that way," he says.
"Rather, we live at the centre of society. We live in Bradford and we are making the show in the city because that's who we are, and that for us is very important.
"We are not making work for audiences, we are making work with audiences. I don't think people should feel alienated by art that they see - they should feel implicated within it."