Downton Abbey bought by 100 countries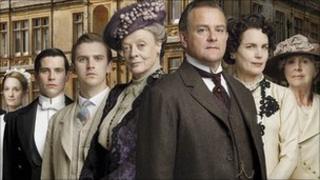 More than 100 countries have bought the rights to broadcast ITV1's hit period drama Downton Abbey, its backers have announced.
The US, Japan, Israel and Germany are some of the countries to have acquired the seven-part series.
Dame Maggie Smith and Hugh Bonneville starred in the drama, created by Oscar-winning screenwriter Julian Fellowes.
A second series is now in production and will be broadcast in the UK this autumn.
The drama, produced by Carnival Films and NBC Universal, was a ratings hit when it made its debut on ITV1 last September.
An average of 10.8m viewers tuned in to watch the last episode of the first series.
Michael Edelstein, president of NBC Universal International Television Production said "a brilliant story, a talented cast and a high level production" had created "a truly global phenomenon".
Last month it was announced Fellowes will pen an ITV mini-series about the sinking of the Titanic.