Mad Men contract dispute resolved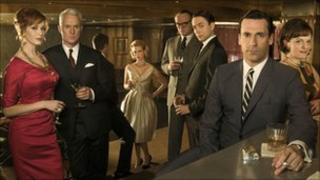 Mad Men creator Matt Weiner has signed a new contract with producers that could mean a further three series of the award-winning US ad agency drama.
This week, network AMC said season five had been delayed until early next year because of stalled talks with Weiner.
They had battled over issues that included moves to reduce running times.
The season opener and finale will now last for 47 minutes, as did the episodes in the last season, with 11 other episodes lasting 45 minutes.
As part of the compromise, Weiner has the option to make 47-minute versions of all the episodes for DVD or digital download release.
Weiner - who has signed up for a fifth and sixth season of the show with the option of a seventh - had also fought with the show's makers over budget and product placement.
There had also been speculation he had been told characters would have to be culled to save money.
In a statement, Weiner thanked Mad Men's "wonderful fans for their support".
He also thanked AMC and series producer Lionsgate "for agreeing to support the artistic freedom of myself, the cast and the crew so that we can continue to make the show exactly as we have from the beginning".
"I'm excited to get started on the next chapter of our story," he added.
The show, which stars Jon Hamm as an advertising executive in 1960s New York, has won the Emmy for best drama for the last three years.