Nelson 'to sing' way out of jail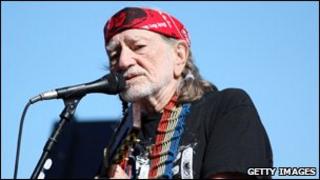 Country star Willie Nelson has been offered a plea bargain over his marijuana charge - to sing in a Texan courthouse.
Nelson, 77, was charged with possession of marijuana in November last year in Hudspeth, West Texas.
Hudspeth County District Attorney, Kit Bramblett, told local radio station WOAI: "I'm going to let him pay a small fine and recommend community service.
"I am going to say that Willie needs to sing Blue Eyes Crying in the Rain."
Bramblett said it was the Judge Becky Dean-Walker's favourite song and Nelson could sing it in the courthouse in the small West Texas town of Sierra Blanca.
"You can bet your ass, I'm not going to be mean to Willie Nelson," Bramblett added.
Nelson's tour bus was pulled over in November by police - they confiscated between three and four ounces of marijuana which Nelson said was his and he was released on bail.
This amount qualifies for a Class B misdemeanour, which can be punished by a fine up to $2000 (£1,248) or up to 180 days in jail.