How the arts world is embracing 3D cinema
By Tim Masters
Entertainment and arts correspondent, BBC News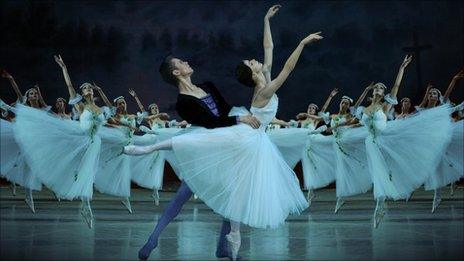 3D cinema last year was dominated by animation and fantasy blockbusters such as Toy Story 3 and Alice in Wonderland - but now arthouse films are getting in on the act.
Last week the world of ballet took its first delicate and perfectly-poised steps into the world of 3D cinema.
Giselle 3D - which was shot almost a year ago at Russia's historic Mariinsky Theatre in St Petersburg - received its big screen premiere in London and will be shown in selected cinemas around the UK in April.
It's not just ballet which is seeking to entice arthouse audiences to don 3D glasses. Opera entered the fray earlier this year with 3D cinema screenings of Bizet's Carmen and Donizetti's Lucrezia Borgia.
The latter, performed by the English National Opera and directed by Mike Figgis, was broadcast live to 15 cinemas across the UK and Ireland, and on Sky TV, in February.
Earlier this month saw the release of Bizet's Carmen, starring Christine Rice, filmed in 3D by Julian Napier at the Royal Opera House.
Elsewhere, Werner Herzog, the acclaimed German director, has made a documentary in 3D.
Cave of Forgotten Dreams takes the audience into France's Chauvet cave to examine cave paintings dating back more than 30,000 years.
The premiere screening of Giselle 3D last week was introduced by the Mariinsky Theatre's energetic artistic director Valeriy Gergiev.
"I don't think anyone has tremendous experience in how to film 3D in an opera house," Gergiev told the BBC after the screening.
"It needs a lot of thought, not to be a prisoner of technology - the natural flow of the dance has to be a top priority."
The 3D ballet stars Natalia Osipova as Giselle and Leonid Sarafanov as Count Albert. It tells the story of a simple village girl who falls in love with a prince disguised as a peasant.
The production was shot in St Petersburg last year by British company Can Communicate.
According the Gergiev, Giselle 3D is just the beginning. "We have a list of productions that we want to film in 3D and there will be unusual choices, not only classical or traditional."
But he said there was more work to be done with the format.
"I have to be honest with you - some of it looks even better than it does in the theatre, but some of it doesn't... but it is altogether a positive experience and an important major step."
Gergiev may be keen to revisit 3D, but Werner Herzog is not so convinced by the format.
"I'm still sceptical," he told the BBC. "Of course it's fine to do Avatar, the big fireworks, why not?
"The industry loves 3D because you cannot pirate it and some of the audiences want the big effects, but there is nothing beyond the firework..."
He said it was "imperative" to shoot Cave of Forgotten Dreams in 3D for the sake of the art.
"The formations of the rock, the bulges, the niches, were actually used by the artists as part of the drama of these paintings - because of that I thought there was an additional beauty."
Would he use 3D again? "If I look back over the 60 or so films I have made so far - let's say I started all over again - there is not a single one would I would do in 3D."
After Herzog's documentary comes another in 3D: Wim Wenders' Pina, about the late German choreographer Pina Bausch.
Also in April comes more 3D ballet in the form of Stravinsky's Rite of Spring at Birmingham's Symphony Hall.
Nine stereoscopic cameras will capture the movements of a dancer which will be projected onto a giant silver screen positioned above the City of Birmingham Symphony Orchestra.
So will 3D help bring in new audiences to opera and ballet? One of its selling points is that it opens the door to expensive artforms for the price of a cinema ticket.
Valeriy Gergiev: "Some will come because they are fans of 3D, some will come because they love ballet and they will be curious about what difference 3D makes."
Joe Dives of Can Communicate said the goal of Giselle 3D was to give audiences a sense of being in the auditorium.
"This will give people the opportunity to see this beautiful and timeless content in areas of the world where they would never have the opportunity to see it."
Giselle in 3D will be shown on 3 and 5 April at selected UK cinemas. Cave of Forgotten Dreams is out now. Stravinsky's Rite of Spring 3D is at Symphony Hall, Birmingham on 21 April. Pina is released on 22 April.
Werner Herzog was interviewed by BBC arts correspondent Rebecca Jones
Related Internet Links
The BBC is not responsible for the content of external sites.