Jim Broadbent takes Pete Postlethwaite part in drama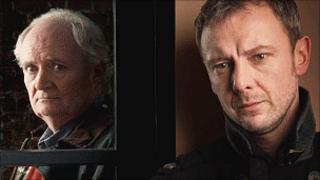 Jim Broadbent has revealed that his role in new BBC One thriller Exile, co-starring John Simm, was to have been played by the late Pete Postlethwaite.
Broadbent was offered the role of Sam, a retired journalist with Alzheimer's disease, after Postlethwaite - who died in January - became ill.
"That was my one reason why I knew that obviously it's going to be good if it's good enough for Pete," he said.
Simm plays a son who is reunited with his father after 18 years.
Speaking after a preview screening at Bafta, in London, writer Danny Brocklehurst, revealed he had written the part of Tom for Simm.
"I came on later and Pete Postlethwaite was down to play Sam," said Broadbent, 61.
"Suddenly he couldn't do it and I had an e-mail."
Broadbent, who won the best supporting actor Oscar in 2002 for Iris, said he drew on his experiences with his mother, who had Alzheimer's disease, for the part.
"It was so familiar, particularly in the way one of the core conceits of this piece is that when someone has dementia there are windows of lucidity," he said.
"In suffering dementia, there are moments when the barriers drop and there is an honesty that comes through which is obviously a very interesting scene to mine as a writer and for the actors as well."
The drama - conceived by Shameless creator Paul Abbott - opens with Simm's character Tom driving away from his chaotic lifestyle in London and returning home for the first time since he was beaten up by his father.
'Difficult relationships'
Back in his northern home town, he tries to uncover the truth behind the attack.
Simm, who had just finished playing Hamlet at the Sheffield Crucible before filming began, said the relationship between his and Broadbent's character was a potent one.
"Hamlet has a father-son relationship in it and I was kind of in that place.
"I've had difficult relationships with my father within my life and you just draw on what you can - your experiences and the experiences of friends."
Simm, 40, the star of TV shows including Doctor Who and Life On Mars, said it had been easy to relate to the character of Tom.
"I grew up in a town very near the town we filmed in," he said.
"It was quite a similar situation, I left when I was 16 and I went to London.
"I did go back and see my dad. But the returning back home and the meeting of friends and being uncomfortable - I can relate to some of that."
The three-parter, directed by John Alexander and also starring Claire Goose and Olivia Colman, will start to be aired in late April.