Johnny Depp to star in Ricky Gervais new comedy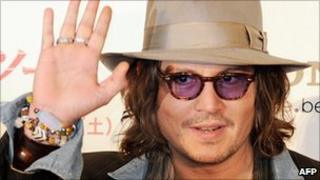 Hollywood star Johnny Depp is to guest star in Ricky Gervais's new sitcom, Life's Too Short, the British comedian has announced.
British Star Wars and Harry Potter actor Warwick Davis - who has dwarfism - plays the ego-maniac head of a talent agency for other little people.
The show has been described as a cross between US comedy Curb Your Enthusiasm and Gervais's previous show, Extras.
The series begins filming in May and will be shown on BBC Two.
Gervais has reportedly written six half-hour episodes so far for the series with writing partner Stephen Merchant.
Depp's casting may come as a surprise to some after Gervais poked fun at the Alice in Wonderland star for his most recent film, The Tourist, at the Golden Globes.
While hosting the ceremony, the comic said: "It was a big year for 3D movies. Toy Story, Despicable Me, Tron... seems like everything was three-dimensional except the characters in The Tourist.
After the ceremony Gervais defended his jokes, saying he believed the people he made fun of had a sense of humour and so would not be offended.