BBC Two to screen controversial Kennedy mini-series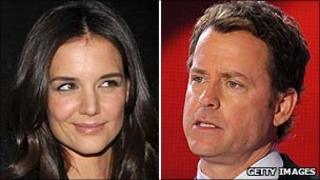 A controversial mini-series about the Kennedy family that its US broadcaster refused to show is to be screened later this year on BBC Two.
The Kennedys was to air on the History Channel in the US before its parent company, A&E Television Networks, pulled the plug following complaints over its historical accuracy.
Greg Kinnear and Katie Holmes play John and Jackie Kennedy in the series.
BBC2 controller Janice Hadlow said it was "a perfect fit" for the channel.
"It has a very particular flavour and we are delighted to have this new addition to our schedules," she continued.
Her words contrast with those of A&E, who had decided "this dramatic interpretation is not a fit for the History brand".
The Kennedys will air in the US next month on ReelzChannel, a digital cable TV channel. It will then be screened on the UK History channel from 7 April.
A BBC Two spokeswoman said it would screen the eight part series in May or June.