Tributes paid to 'beautiful' Taylor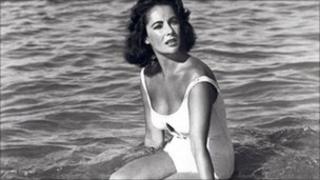 A host of stars have paid tribute to Dame Elizabeth Taylor following her death in Los Angeles at the age of 79.
Her passing was announced at Wednesday around 1300 GMT, prompting a slew of reactions from famous fans, friends and former associates.
Her eldest son, Michael Wilding led the tributes in the following statement:
"My Mother was an extraordinary woman who lived life to the fullest, with great passion, humour and love.
"Though her loss is devastating to those of us who held her so close and so dear, we will always be inspired by her enduring contribution to our world.
"Her remarkable body of work in film, her ongoing success as a businesswoman, and her brave and relentless advocacy in the fight against HIV/Aids, all make us all incredibly proud of what she accomplished.
"We know, quite simply, that the world is a better place for Mom having lived in it. Her legacy will never fade, her spirit will always be with us, and her love will live forever in our hearts."
Sir Michael Caine, actor
So sad to hear about my beautiful friend Elizabeth Taylor.
We made a movie together many years ago and became friends. I got to know a beautiful woman, a wonderful actress and a great human being.
Like so many others i will miss her very much.
Michael Caine appeared with Taylor in the 1972 film X, Y and Zee.
Angela Lansbury, actress
I am deeply saddened that Elizabeth has passed away and send my love and sympathy to her family.
Elizabeth and I began our careers about the same time at MGM.
Throughout her tumultuous life, she will be remembered for some unique and memorable work.
And she will be ever remembered and appreciated for her forthright support of Amfar (American Foundation for Aids Research).
Angela Lansbury appeared with Taylor in 1980 film The Mirror Crack'd.
Steve Martin, actor
I met Elizabeth Taylor several times. She was witty and self-deprecating, which I found surprising and delightful. She loved to laugh.
Mike Nichols, director
The shock of Elizabeth was not only her beauty, it was her generosity.
Her giant laugh, her vitality, whether tackling a complex scene on film or where we would all have dinner until dawn.
She is singular and indelible on film and in our hearts.
Mike Nichols directed Taylor's 1966 film Who's Afraid of Virginia Woolf?
Debbie Reynolds, actress
It was a long productive career and she was the most glamorous and sexual star of our generation.
No-one else could equal Elizabeth's beauty and sexuality. Women liked her and men adored her, and her love for her children is enduring. She was a symbol of stardom and her legacy will last.
Sir Elton John, singer
We have just lost a Hollywood giant. More importantly, we have lost an incredible human being.
Elizabeth Taylor earned her fame with her extraordinary talent as a young actress, making her first movie at the tender age of nine. She earned our adoration for her stunning beauty and for being the very essence of glamorous movie stardom.
And she earned our enduring love and respect for her compassion and her courage in standing up and speaking out about Aids when others preferred to bury their heads in the sand.
Michael Winner, director
Elizabeth Taylor was the last of the great glamour stars. She was the longest-running soap opera in history, and represented all the allure and tragedy that attracts people to Hollywood.
In her day, if you were on the screen and glamorous, you did not let your fans down, and you looked good even when you went to the shops. She will be dreadfully missed.
Joan Collins, actress
I am so terribly sad about the death of Elizabeth Taylor. Although everyone here in Hollywood knew that her end was near we are all shocked.
She was the last of the true Hollywood icons, a great beauty, a great actress and continually fascinating to the world throughout her tumultuous life and career.
There will never be another star who will come close to her luminosity and generosity, particularly in her fight against Aids.
She will be missed.
Joan Collins appeared with Taylor in the 2001 TV film These Old Broads.
Liza Minnelli, actress
She was a true star, because she not only had beauty and notoriety; Elizabeth Taylor had talent.
As a friend she was always, always there for me. I'll miss her for the rest of my life, but I was so lucky to have known her.
Larry King, broadcaster
Elizabeth Taylor was a great friend, a great star and one gutsy woman.
She was so special. You won't see the likes of her again.
Barry Norman, film critic
She was an extremely nice woman and wore her great fame very lightly. She certainly did not swagger about.
She was actually not at all a bad actress. In films like Who's Afraid of Virginia Woolf? she was extremely good.
Dame Diana Rigg, actress
Elizabeth Taylor was the most beautiful woman I have ever clapped eyes on. A really sweet woman - utterly unmalign.
Diana Rigg appeared with Taylor in the 1997 film A Little Night Music.
George Michael, singer
Such a sad day, Elizabeth Taylor was the last of the Hollywood greats, and a fantastically charming woman.
She was also the only person I've ever met that had violet eyes. They were genuinely violet. So beautiful.
She also did a great deal in the last 25 yrs [sic] to help the world deal with the HIV epidemic. I am proud to have known her if only a little.
Kirstie Alley, actress
Elizabeth... thank you for the lessons you taught me about life... suffering and joy... you are the brightest star in the universe... Eternal love.
Kirstie Alley appeared with Taylor in the 1985 TV mini-series North and South.
Piers Morgan, broadcaster
One of the great movie stars of all time, on and off screen.