Royal wedding recorded album to be sold online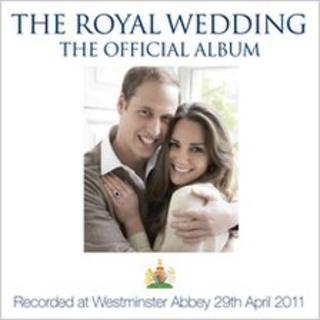 A recording of Prince William and Kate Middleton's wedding will be available to download within hours of the service finishing.
The entire ceremony will be released digitally through Decca Records to online retailers including iTunes.
A physical album of the event being held on 29 April at Westminster Abbey will also be released in shops on CD, vinyl and cassette from 5 May.
It will be produced by multi-Grammy-nominated producer Anna Barry.
Barry has produced more than 500 classical recordings ranging from works by Andrew Lloyd Webber to opera singer Jose Carreras.
"This is a great honour and an enormous responsibility," the producer said.
"The wedding means so much to millions of people all over the world - we have to capture every note and every nuance perfectly and have the recording ready within minutes of the end of the ceremony."
Musicians already confirmed to perform at the ceremony include The Choir of Westminster Abbey, The Chapel Royal Choir, The London Chamber Orchestra and The Fanfare Team from the Central Band of the Royal Air Force.
The official album will also include a booklet containing the order of service, readings, vows, hymns and blessings, as well as all the music.
"Thanks to digital technology we will be able to deliver it worldwide almost instantly - it will be the fastest we have ever released an album of this stature," said David Joseph, chairman of Universal Music UK.
If the album meets Official Chart rules, it will be eligible to enter the weekly album chart.
Individual tracks, including the vows, will also be available to download as singles.
Decca said £1 from each album sold will go to The Foundation of Prince William and Prince Harry - the princes' charitable fund.
Decca, part of the Universal Music label, also released recordings of the wedding of Charles and Diana, Prince and Princess of Wales in 1981, and Diana's funeral in 1997.
The official BBC album for the royal wedding spent two weeks at number one in the album chart when it was released.
The funeral service for Diana, Princess of Wales also reached number three in the compilation album chart.
There have been two other royal wedding albums to chart over the years - Music for a Royal Wedding reached number seven in December 1973 following Princess Anne's wedding to Capt Mark Phillips.
A recording of Prince Andrew's wedding to Sarah Ferguson managed number 55 in August 1986.
The Official Charts Company's managing director Martin Talbot said: This is the fastest turnaround for an album release that we are aware of. This release will be quite a first for the royals - and for digital music.
"William and Kate will not only find themselves vying with Adele, Britney Spears, Elbow and Glee, but will be looking to emulate Will's parents too, whose edding produced the nation's biggest selling album for two weeks."