Midsomer producer to 'step down' after current series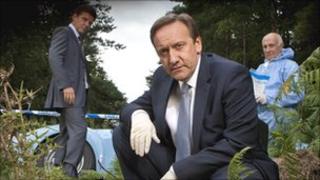 The suspended producer of Midsomer Murders is to "step down" after the end of the current series, ITV has said.
The show's production company said Brian True-May had been reinstated after apologising for stating that the serial "wouldn't work" if it had more racial diversity.
An ITV spokesman welcomed Mr True-May's apology, adding it was understood he would "step down... at the end of the current production run."
The new series begins on Wednesday.
Last week, Mr True-May was quoted as saying the long-running drama was a "last bastion of Englishness" and should stay that way.
""We are a cosmopolitan society in this country, but if you watch Midsomer you wouldn't think so," he went on.
"I've never been picked up on that, but quite honestly I wouldn't want to change it."
ITV said it was "shocked and appalled" by his comments and that it had begun "urgent discussions" with All3Media.
The production company - which also works on shows like The Only Way Is Essex - said Mr True May had since been reinstated after an internal investigation and that he was sorry for any "unintended offence".
The latest series, which begins on Wednesday at 2000 GMT, sees actor Neil Dudgeon replace John Nettles as the central character following the latter's departure in February.