Essex opera house brings Tchaikovsky to the farm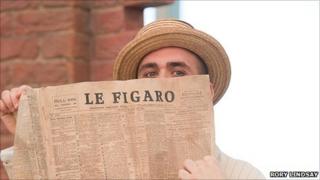 Essex may not be the obvious place to find a thriving opera company, but this summer a farm in the heart of the county will echo with the sound not of tractors, but Tchaikovsky.
Christopher Stewart-Smith squeezes between two tractors and flings open a barn door to reveal an amphitheatre backed by open countryside.
It is here - in the grounds of his Elizabethan manor house - that the annual Stanley Hall Opera comes to life each June.
"What we are now what Glyndebourne was in 1935," says Stewart-Smith, with reference to the world-famous opera house in East Sussex.
Now in its 11th year, Stanley Hall Opera attracts some 2,000 people to its mid-summer season, yet is somewhat unusual in that it operates without public subsidy, or any commercial sponsorship.
Much of the money comes from philanthropic giving, including a network of patrons, sponsors and friends. It became a registered charity in 2006.
This year's production of Tchaikovsky's Eugene Onegin is being put together as many arts organisations across the UK face cuts to their public subsidies.
The government hopes philanthropists will help fill the gap.
"I don't think that opera is a special case for public funding," says Stewart-Smith. "Opera is a very expensive habit but it doesn't have to be done expensively."
He should know. Ten years ago he carved his operatic amphitheatre out of the ground with a bulldozer.
On this overcast afternoon in March, it lies stripped of its grand marquee. Pieces of scenery from last year's production lean against a nearby wall. The only audience is a dozen chickens.
Start from scratch
But things will look very different in June.
Each year Stanley Hall Opera creates a new operatic production from scratch. A musical director and theatre director are hired, a new libretto commissioned, and auditions for the singers take place in October and November.
"We cast in London like any other opera company," says Stewart-Smith.
"I try to give opportunities to singers who are three or five years out of opera school and have a bit of experience. Many of them have gone onto the bigger houses from us."
He also hires an orchestra, and three weeks of rehearsals in London are followed by a final week at Stanley Hall, near the picturesque village of Halstead.
"It has grown by word of mouth," says Stewart-Smith. "I don't advertise at all. No opera critics have ever come to review it. I don't think they really know about us, we're pretty small. Why is your national opera critic going to schlep all the way out to Stanley Hall?"
It is, he points out, also about the local community. "We couldn't do it all unless 25 local families put up all the musicians in accommodation for a week."
The dress rehearsal is attended by 500 children from 16 local primary schools who also receive professional singing workshops.
"People think this is a difficult and elite art, which is not really true," observes Stewart-Smith. "The kids get it straight away."
The businessman's love of opera goes back to his days at Cambridge. In the 1960s he was a consultant with McKinsey and Co and later chairman of P&O. He has been a director or chairman of various public and private companies, including 10 years in charge of Earls Court Exhibition Centre.
"I got quite fascinated about how events are put on, what makes them work," he recalls. "I always wanted to put on opera at Earls Court but I backed out of it, although Covent Garden were quite keen on the idea."
'Private party'
Many years later, in 2001, he decided to stage opera at his home, which is also a working organic farm. "I rang up 30 friends and said if you all bring a party of 10 I'll put on an opera, and they all said 'yes'."
So does he consider himself a philanthropist?
"I don't regard myself principally as a philanthropist, I think it sounds a bit grander than I am. But I am putting my money where my mouth is, and I am persuading other people to do that."
He adds: "I was asked whether I wanted money from the Arts Council and I said I didn't think it was appropriate.
"I'm not against public subsidy of the arts, if you want a first-class opera house you need some public subsidy.
"We have never gone down the road of commercial sponsorship. There are no advertisements in our programmes. It would change the atmosphere, and people like it as it is. It's a bit like a private party, although everyone is welcome."
Stewart-Smith has no desire to see Stanley Hall turn into another Glyndebourne, but he would like to see audiences double.
"Mostly we've done relatively light opera," he says. "We like to take pieces that were a success in their day that people don't play much now - like Auber's Fra Diavolo we did in 2009.
"I've always told our people to remember that the most wonderful music in the world is the sound of people laughing."
He realises this year's production might be a challenge.
"Eugene Onegin is a very accessible, relevant piece. It'll be interesting to see how it goes here, because it's not a bundle of laughs!"
Stanley Hall Opera's Eugene Onegin, directed by Natascha Metherell, run from 25 June to 2 July.