Downton Abbey creator Fellowes to write Titanic TV epic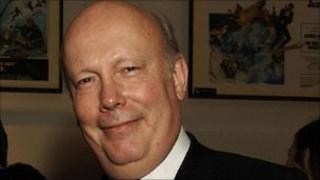 Downton Abbey and Gosford Park creator Julian Fellowes is to write a TV mini-series about the 1912 sinking of the Titanic, to air next year on ITV1.
The series - set to start filming in Hungary this spring - will mark the centenary of the liner's demise.
Titanic will be "the must-see original drama for this landmark centenary anniversary," said Maria Kyriacou, of ITV Studios Global Entertainment.
Dame Helen Mirren and Romola Garai have been linked to roles in the drama.
Viewers will be taken on a "heart-wrenching journey through Titanic's last hours," pledged ITV in a statement.
The six-part series, it said, would combine "action, mystery and romantic plot lines" and feature both fictional and historical characters.
The ship - claimed to be unsinkable by its builders - sank after hitting an iceberg on its maiden voyage across the Atlantic in April 1912.
The programme will also be screened in the US and Australia.
Fellowes - who became Lord Fellowes of West Stafford last November - enjoyed success with Downton Abbey last year.
The first episode of the lavish period drama began with news of the Titanic's sinking.