Christopher Eccleston to star in Westminster Abbey play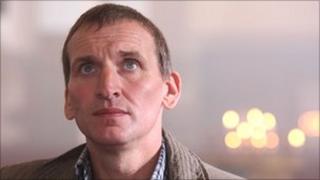 Christopher Eccleston and Tamsin Greig are to star in a play to mark the 400th anniversary of the King James Bible, to be staged in Westminster Abbey.
Ralf Little and Sharon Small are also in the cast for In the Beginning, which takes place on Thursday.
Actors will lead audience members around the building where scholars met in 1611 to finalise its translation.
The work, written by Nick Payne and produced by London's Bush theatre, contains extracts from the Bible.
Billed as a celebration of the Abbey and the King James Bible, the event will see small groups taken into areas of the London landmark that are rarely seen by visitors.
The play touches on some of the lesser-known facts about the building, such as poet Ben Johnson being buried there upright because he could only afford a tiny plot.
Payne, whose play If There Is I Haven't Found It Yet was staged at the Bush in 2009, had his comedy Wanderlust staged at the Royal Court last year.
Other cultural events to mark the King James Bible's 400th anniversary include actors from the Shakespeare's Globe theatre reading out the work from cover to cover.