Sales boosted by World Book Night giveaway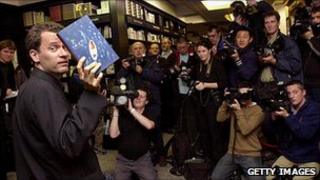 World Book Night gave a huge boost to the sales of the 25 books given away to mark the occasion earlier this month.
The inaugural event added approximately 75,000 extra sales across all titles, according to The Bookseller.com.
Some 20,000 people were asked to pick their favourite and were then given 48 copies to pass on to friends with their recommendation.
David Nicholls' One Day and Rohinton Mistry's A Fine Balance are the current favourites with the buying public.
Book lovers snapped up the titles, which included Yann Martel's Booker Prize-winning Life of Pi, at three times the rate that they did during the same period last year.
The books were chosen by a committee of booksellers, librarians and broadcasters.
They include works by Alan Bennett, Seamus Heaney, Gabriel Garcia Marquez, Sarah Waters, Margaret Atwood and Philip Pullman.
One million books were given away across the UK and Ireland for the World Book Night event, which took place on 5 March.
They were distributed at venues including homeless centres, pubs and hospitals in a bid to boost reading.