Jim Davidson cancels theatre tour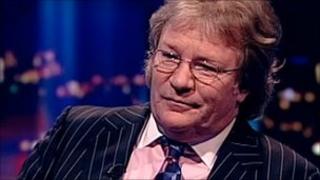 Comedian Jim Davidson has cancelled his first play, Stand Up And Be Counted, after poor ticket sales.
The touring show, about a washed-up racist comic, has been axed after visiting four of the 12 planned venues.
Writing on his website, Davidson said the current economic climate "made it impossible to make the 'numbers' work".
The tour will end at Glasgow's Pavilion Theatre on 26 March, but Davidson said he still hoped to bring the play to London in the future.
"After a great deal of soul searching I have come to the difficult decision that I have no choice but to draw a close to the current production of my first play," Davidson wrote.
"I can't tell you how proud I am of what we have achieved in the last year. All of which has made me even more determined to see the show performed on the London stage."
The show had been due to run until the end of May. Davidson said the show had been seen by more than 8,000 people since opening last month, adding that he was in talks with several West End producers and theatre owners.
Despite the cancellation, Davidson said he would tour with his own stand-up show in the near future.
Stand Up and Be Counted received extensive media attention due to the perceived similarities between the main character and Davidson himself.
The comic has courted controversy a number of times in the past after making jokes about ethnic minorities, homosexuals and disabled people in his stand-up routines.