Country singer Ferlin Husky dies aged 85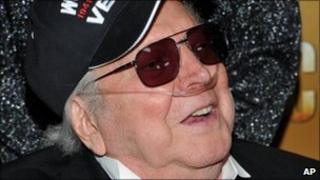 Country music pioneer and actor Ferlin Husky, best known for hits including Gone, has died aged 85.
The singer-songwriter, who was inducted into the Country Music Hall of Fame last year, died at his daughter's home in Westmoreland, Tennessee.
The ballad Gone was number one in the US country charts for 10 weeks and reached number four in the pop charts.
He starred in the films Country Music Holiday with Zsa Zsa Gabor and The Las Vegas Hillbillys with Jayne Mansfield.
Husky, who died on Thursday, had a history of heart problems and was recently treated for congestive heart failure.
His other hits included his version of the gospel song Wings of a Dove, which topped the country chart and was also a mainstream success, as well as A Fallen Star and The Waltz You Saved For Me.
At the peak of his career in the 1950s and 1960s, he was considered one of the top country music performers.
Fellow country star Merle Haggard once said there were "a lot of years when nobody in the business could follow Ferlin Husky".
"He was the big live act of the day - a great entertainer," Haggard said.
Nashville template
Husky was the headline act for a tour featuring a young Elvis Presley, who Husky said "was so eager to learn how to entertain an audience, he'd watch everything I did".
One of the first country artists to be honoured with a star on the Hollywood Walk of Fame, Husky sold more than 20 million records, according to his website.
At his Hall of Fame induction last year, the singer, who was connected to an oxygen tank he referred to as his "own airline", said: "I want to thank everybody who had anything to do with bringing me into this group, the people I've admired since I was a little child."
Country Music Hall of Fame and Museum director Kyle Young said at the time that, in the mid-1950s, Husky had created "the template for the famed Nashville sound, a sound that gave rock 'n' roll a run for its money and forever put Music City on the map".