Julian Barnes wins David Cohen Prize for Literature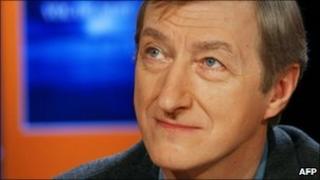 Author Julian Barnes, whose novels include Flaubert's Parrot and England, England, has been presented with the David Cohen Prize for Literature.
Past recipients of the £40,000 prize, described by judges as the UK's Nobel Prize for Literature, include Harold Pinter and Doris Lessing.
The biennial lifetime achievement award went to Seamus Heaney in 2009.
Receiving the prize at a London ceremony, Barnes, 65, said its value "lies in its list of previous winners".
He said that, since the price was introduced in 1993 - when it was won by VS Naipaul - it had "established itself as the greatest honour a British or Irish writer can receive within these islands".
"It is also conducted with proper secrecy and dignity," he said. "So it is a matter of sober delight to be added to the list of prize winners."
Chairman of judges Mark Lawson said the "already extraordinary list of David Cohen Prize-winning authors", which also includes Beryl Bainbridge and Muriel Spark, had been "fittingly extended".
Reading support
Barnes, who was born in Leicester, formerly worked as a reviewer, literary editor and TV critic for publications including the New Statesmen and The Observer.
He has been nominated three times for the Booker Prize, for 1984's Flaubert's Parrot, 1998's England, England and 2005's Arthur & George.
As the winner of the David Cohen Prize, Barnes has chosen The Reading Agency as the recipient of the £12,500 Clarissa Luard Award.
The charity will use the money to support reading initiatives for young offenders.
"It seems to me that the practice of reading is currently more under threat than the practice of writing," he said. "There will always be young writers - will there always be young readers?"