Jodie Foster: 'No regrets' over hiring Mel Gibson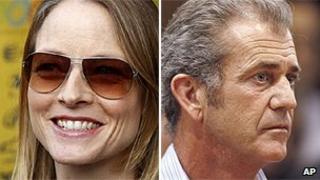 Jodie Foster has said she had "no regrets" about casting troubled actor Mel Gibson as the lead in her latest film, The Beaver.
The actress, who also directed the drama, said at the movie's US premiere she felt "incredibly grateful" for his performance.
The film tells of a depressed toy company executive who communicates through a hand puppet beaver.
Last week Gibson pleaded no contest to domestic abuse charges.
"Obviously all sorts of stuff happened after the film was finished," Foster, who stars as Gibson's on-screen wife, said.
Speaking at the South by Southwest Film Festival, the star said although the actor's personal troubles had delayed the release of the film, she would not change anything about the movie.
"I certainly have no regrets about him being in the film and his performance," she said.
Foster added making the movie was "probably the biggest struggle of my professional career" because of the difficulty striking the right balance between the movie's comedy and drama.
The film explores the issues surrounding depression and the impact it has on families.
Gibson was sentenced last week to 36 months probation and ordered to attend a year of domestic violence counselling after a fight with former girlfriend Oksana Grigorieva in 2010.