Singers protest over opera fees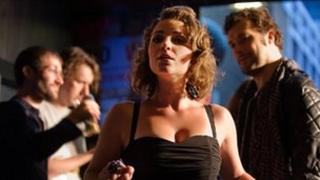 An award-winning opera company is facing complaints from performers in its latest production, who were not paid for taking part.
OperaUpClose's version of La Boheme was named best new opera at the prestigious Laurence Olivier Awards on Sunday.
Members of the chorus were not paid and have contacted actors' union Equity.
OperaUpClose said principal performers were paid but parts in the chorus were advertised as volunteer positions to gain industry experience.
The company specialises in staging operas in intimate venues. La Boheme began in the 35-seat Cock Tavern in north London before moving to the Soho Theatre.
"It has always been our intent and our practice to serve the dual purposes of presenting fine operatic productions while serving as a training ground and a stepping stone for the next generation of performers," a statement from the producers said.
'Extremely proud'
With no public funding, the company said it would be unable to use a chorus if it did not call upon volunteers.
"We stand by our accomplishments; indeed we are extremely proud of them," the statement added.
Equity has held a meeting with chorus members and said discussions between the two sides were "ongoing".
An Equity spokesman said: "We are concerned about the now Olivier Award-winning OperaUpClose production of La Boheme not paying the members of their chorus.
"We have been approached by members on this. We have been talking to both OperaUpClose and the Soho Theatre to seek a resolution to that unhappiness."
La Boheme beat productions from the Royal Opera House, London Coliseum and Young Vic to the Olivier Award.
Speaking at the ceremony on Sunday, director Robin Norton-Hale said: "It's hard because you're asking singers who've trained for a decade to come and do a show where they're not going to get paid at the rate they would get at the ROH or ENO.
"We are lucky to have had such great audiences, so we've been able to get away with it. We've proved that opera can be artistically and commercially successful - and we deserve funding."