A new revolution in DIY film-making?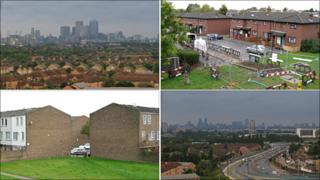 A new project called MyStreet has invited would-be film-makers to submit a short film about where they live, their journey to work or even the old lady at the end of the road who loves to spin a few yarns.
The best ones will be screened at a documentary film festival in London in the summer.
Thanks to smart-phones and increasingly cheaper digital cameras, most people own even the most basic technology that allows them to capture and edit amateur footage and post it online.
But is that turning us all into film-makers? And with other projects such as Kevin Macdonald's Life in a Day - compiled from videos submitted by the public - what does it mean for the future of the film industry?
Simon Chinn - Oscar-winning producer of documentary Man On Wire and MyStreet jurist
"In an age when most people have the means of production in their pockets, I think the idea is to empower people to actually use them.
Everyone can do it but not everyone can do it well. It is talent, it is about skill.
The exciting thing is that we might actually find someone who goes on to bigger things. It's kind of an X-Factor for documentary.
But it's not just about putting any old story out there - it's about finding something in amongst the mass of user-generated content that exists. Selecting and filtering the stories that will engage an audience.
A documentary doesn't have to be a force for social change, it can also be entertaining, it can be inspirational. When it's done well it can engage an audience emotionally, better than the best feature films.
I think they really could work cinematically. There are increasingly theatrically released documentaries that draw from the kind of culture of UGC (user-generated content).
I'm thinking of something like Catfish, which caused a splash at Sundance two years ago and was released.
Fundamentally it was made by a bunch of guys with a handy-cam who came across a story on the internet. People have an insatiable thirst for those kinds of stories.
I think the fact that people like Kevin Macdonald are spearheading films using this content will inevitably mean that more projects will follow in its wake."
Kevin Macdonald - Oscar-winning director of Touching the Void and director of 'YouTube film' Life in a Day
"We were trying to create a portrait of the world in a day to show what life is like over the course of one 24-hour period.
There's a needle in the haystack element to this kind of film-making. You're not quite sure what you're looking for but you know that there's some gold in there somewhere.
You search for the things that are beautifully filmed or informative or moving and pull out those little gems in amongst the trash that is inevitably there.
I don't think this will take over all film-making or documentaries but it's an area of real interest.
It's new and made possible by technology and the internet and the ability it gives you to communicate and upload things.
It's uncharted territory. Life in a Day is a unique film and I think it will resonate with people who spend their lives on the internet and feel the sense of connection that the internet gives you.
That's presented in a very real and dramatic way in this film. It's a good cinema experience and that is the most important thing to get people to go and see it.
Is that something that is going to entertain you? Move you? Make you think about the world you live in?
That's the difference between a good film and bad film. It doesn't really matter how it's made."
Life In A Day will be released in UK cinemas on 17 June.
Gareth Edwards - Bafta-nominated first-time director of Monsters
"I think the future's really hard to predict.
One of the things that made Monsters look good was the camera which we used, which could emulate a 35mm film camera. It makes things in the background or foreground look fuzzy and out of focus and it makes it feel soft and magical.
You can get that now with a digital camera that you carry in your pocket.
The thing that gives things value is when they're rare. When something is really common, it doesn't have as much value any more.
Film used to be something that you aspired to look like because it was so rare and expensive that only film studios could afford.
Now we all have these cameras and even clips on YouTube look like that. But when everything is beautiful, then nothing is beautiful.
There's that and then there's storytelling - telling a story that people care about. There's no shortcut or magic trick to that.
Getting that right is stupidly rare. It's a competition everyone can enter but your chances of winning are still the same.
It probably has more repercussion, this digital revolution, for current affairs than cinema.
Any event that kicks off, whether it's a secret war crime or something that happened in a dictatorship, you've got an HD video camera that you can use, distribute and put online to the entire world a few seconds after taking it.
That's the digital film revolution that everyone is missing. Everyone seems more obsessed with someone making a monster in their bedroom.
You can fight the monsters with a camera but not necessarily in the cinema."
Monsters is released on DVD and Blu-ray on 11 April.