D H Lawrence Women fall back in love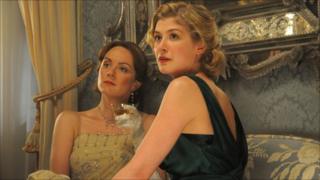 Forget Ken Russell and the infamous wrestling scene - a BBC Four version of DH Lawrence's Women in Love is set to entice the audience later this week.
Made in Dagenham writer William Ivory has merged two Lawrence novels - The Rainbow and Women in Love - to produce a two-part drama.
The two books about Nottingham sisters Ursula (Rachael Stirling) and Gudrun (Rosamund Pike) were originally intended to be published as one novel by the author.
And more than 40 years after Russell's version hit the big screen, the task of bringing the visceral and lyrical language of Lawrence to the screen is still as challenging.
Director Miranda Bowen says she wanted to create something "very organic and immediate".
"Billy (Ivory) and I spent a long time together going through the script with a toothcomb, wanting to make it as vibrant, dynamic, kinetic and sensual as possible," she says.
"We tried to be as spontaneous as possible about the performances."
The drama tells of two sisters and their relationships with their parents and their lovers, Gerald (Joseph Mawle) and Rupert (Rory Kinnear).
The young women and men end up moving abroad from Nottingham, which culminates in tragedy.
Film star Rosamund Pike was so impressed by the script that she was drawn back to television for the first time in 10 years.
"In TV, the time pressure is extraordinary. It's frustrating because sometimes you long to explore more," she says.
'Feverish and fractured'
It was Ivory who first attracted Pike to the project. The pair had met when Pike was starring in Made in Dagenham.
She has since read Lawrence's books and is now "completely swung" on him.
"There is a lot of internalisation in the novel, he describes like nobody I've ever read, every fluctuation in feeling due to one's own vulnerability around a new partner."
Lawrence at his best has an immense capacity to capture the emotions of being in love. Although his novels are nearly 100 years old, Bowen points out that his writing is still very current.
"I was shocked by how contemporary it (Women in Love) felt. The language feels feverish and fractured," says Bowen, whose previous experience includes directing episodes of Channel 4's comedy drama Cast Offs.
Indeed, the exploration of sex versus love and death seems just as relevant now to a modern audience.
Although viewers may not be as shocked by the numerous sex scenes in the drama, Ivory says "the idea of sexual and emotional relationships feels a lot franker than anything you've seen before".
The sex scenes are shot in a naturalistic way and there is no sense of gratuitousness.
'Salivating stuff'
Aside from accusations of obscenity, Lawrence has also been accused of misogyny. But Tipping the Velvet actress Rachael Stirling counters this allegation.
"Ursula is extraordinary and original - she learns through her mother to be unashamed of her passion and sexual desire," she says.
"She is an awakened sexual creature. It's really liberating for 1919."
Pike's character Gudrun is also sexually liberated. She sleeps with men freely, although beneath her bravado she is left feeling wanting.
"Gudrun uses sex to achieve her goals almost as a weapon," says Stirling.
She says the script was "salivating stuff for an actress". "I love good dialogue, I love language."
The adaptation tackles other big themes, including latent homosexuality - Rupert's attraction to Gerald - and class.
"My character has a real chip on her shoulder," says Pike.
"She feels she's not good enough, not wealthy enough for her partner."
While Ursula and Rupert manage to find an understanding despite their differences, the insecurity of both Gudrun and Gerald drives them apart.
Mawle describes his character Gerald, a wealthy industrialist, as "at the top of the tree but equally conflicted with his lack of self-worth and human frailties".
"Gerald doesn't trust love because he cannot vocalise it, he cannot intellectualise it," he adds.
Mawle - who is partially deaf and dyslexic - explains that he did not read Lawrence's novels as he finds reading "quite strenuous".
But he trusted Ivory's script and although he won't be watching - "I can't bear watching myself on screen" - he gives arguably the most powerful and memorable performance.
Kinnear's character is also in conflict as he strives to break away from conformity, although his character has been changed significantly from that in the Women in Love novel.
Change of scene
"He's a much more sympathetic character in this [the TV drama] than in the book. He's an intellectual bully and a snob in the book. Our Rupert is confused, very bright, sympathetic, kind but weak," says Kinnear.
The naked wrestling scene remains but this time it takes place on an African beach rather than in front of a blazing log fire.
The films were made in South Africa rather than Nottingham where the novels are largely based - primarily due to budgetary constraints.
Although as Bowen says, "it's amazing what you can do with lots of cow parsley".
The dramatic ending takes place in the desert rather than in the Alps of the novel.
Ivory has pulled off the unenviable task of bringing Lawrence's stream of consciousness to life.
"It's taken five years, it's a very bold adaptation," he says.
"I really feel if Lawrence were to walk into this room he'd say: 'Oh, yer bugger,' but he'd know why I'd done it. I tried to be in his skin as much as I could."
Women in Love is on BBC Four on 24 and 31 March at 2100 BST.