Robert Redford brings Sundance to London's O2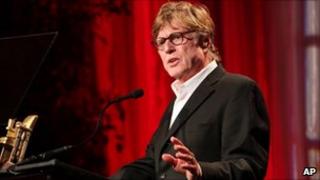 Actor turned film-maker Robert Redford has launched Sundance London, a four-day culture festival which will take place at the O2 next spring.
The festival, which runs from 26-29 April next year, will include films and live music acts.
Redford said he wanted to bring the "very best in current American independent cinema" to the UK.
Redford founded the Sundance Film Festival, which takes place annually in Utah in the US in 1978.
Speaking at the Sundance London launch on Tuesday, Redford said organisers wanted to "help build a picture of our country that is broadly reflective of the diversity of voices not always seen in our cultural exports".
The influential Sundance Film Festival celebrated its 30th anniversary earlier this year - it was founded by Redford to promote independent film-making.
Last year, Winter's Bone won the top prize before going on to be nominated in four categories including best picture at this year's Oscars.