Stephen Poliakoff returns to the theatre after 12 years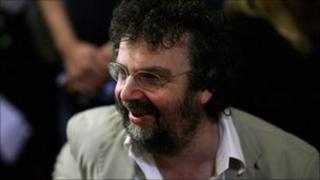 Stephen Poliakoff will direct his first new play in 12 years in London this autumn.
My City will premiere at the award-winning Almeida Theatre in Islington.
Artistic director Michael Attenborough announced the summer/autumn season, which also features US film director and playwright Neil LaBute.
Poliakoff's play marks a return to the stage after years making TV dramas and films such as Glorious 39.
It centres around a man who finds his former primary school headmistress lying on a park bench near St Paul's Cathedral.
Memories of the teachers' vivid and imaginative lessons come to life and he is again inspired by their tales of London.
Neil La Bute will direct his latest play Reasons To Be Pretty which examines society's perception of beauty and has already premiered on Broadway.
The theatre will also hold a festival celebrating the best of international theatre this summer, playing host to the Belarus Free Theatre and the innovative British company Greyscale.
There will also be a new play by the Young Friends of the Almeida.
"It is a season where we are home to the new, the original and the unexpected," said Attenborough.
Crucial funding
The Almeida receives almost £1 million in public subsidy, and after stars including Helen Mirren and David Tennant voiced their concerns for arts funding over the weekend, Attenborough told The Times that the money is crucial.
"Although we get fabulous support from private sponsors, I see no prospect of huge great wealthy philanthropists stepping in and plugging the gap," he told the newspaper.
"People talk about importing the American model. You talk to people in America and they go, 'No! Don't do what we're doing!"'