Brian Cox says BBC is wrong over show music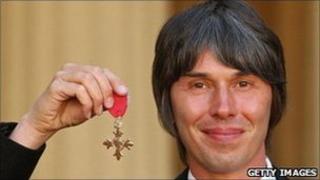 Physicist Professor Brian Cox has said the BBC made a mistake by agreeing to turn down the music volume for his scientific series Wonders of the Universe.
The BBC agreed to lower the sound after receiving 118 complaints about the background music on the first episode being too loud and/or intrusive.
Speaking on Radio 4's Start the Week, Cox said he thought it was an error.
"We can sometimes be too responsive to the minority of people that complain."
He added: "It should be a cinematic experience - it's a piece of film on television, not a lecture."
The programme's executive producer, Jonathan Renouf, explained his decision to tone down the music on Points of View Online. BBC programme Points of View puts viewer comments and complaints to programme makers.
Renouf said: "There's enough volume of complaints over this. I think we clearly have made an error of judgement so we are re-mixing the sound for all the films, to pull down the music and effects levels when Brian is talking."
But he defended the general use of music in such programmes, saying "it lends a lot of emotion and more depth".
One viewer complained to Points of View: "You don't have to dumb everything down by pretending we're all in a nightclub."
Another wrote: "I am fully able to sort out the annoying cacophony of sounds to hear the narration but why on earth should I have to work so hard to do it?"
The Royal National Institute for the Deaf (RNID) welcomed the BBC's decision to turn down the volume.
"RNID welcomes the BBC's decision to lower the level of background music on the Wonders of the Universe, which will make this already dramatic and engaging programme more accessible and enjoyable for people with hearing loss," said the RNID's director of public engagement, Emma Harrison.
In the BBC Two series, Cox reveals how the most fundamental scientific principles and laws explain the story of the universe and humanity. Each show in this series has been watched by more than 3m people.
Pop career
The four-part series tackles life's big issues, such as what we are and where we come from, as well as how gravity sculpts the entire universe.
Cox began his career as a rock star, when his band Dare signed a deal with A&M records in 1986.
Cox left Dare and joined D'Ream, whose song Things Can Only Get Better was famously used by Tony Blair as the Labour Party election song in 1997.
Cox studied at Manchester University while he was in the band, and in 2009, he became a professor of particle physics at the same university.
He has since gone on to become a radio and TV presenter. His credits include BBC Two's Stargazing and Wonders of the Solar System.