Israel calls for Miral UN premiere cancellation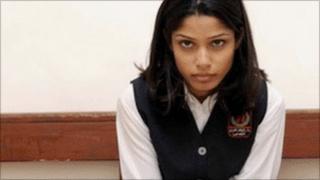 Israel has urged the United Nations to cancel the US premiere, at its New York headquarters, of a film about the Israeli-Palestinian conflict.
Miral, directed by Jewish film-maker Julian Schnabel, traces the conflict after 1948, from a Palestinian angle.
In a statement, Israel accused the UN of making "a politicised decision" that showed "a lack of even-handedness".
A UN spokesman denied a "political link" to the film, saying the General Assembly hall was "just a venue".
"Several films have been shown at the UN," spokesman Jean-Victor Nkolo added.
But Israel's deputy ambassador to the UN, Haim Waxman, said: "We are not aware of any other films with such contentious political content that have received this kind of endorsement from the president of the General Assembly."
Miral, due to be shown at the General Assembly hall on Monday, is based on an autobiographical novel by Palestinian journalist Rula Jebreal and stars Slumdog Millionaire actress Freida Pinto.
It tells the story of an orphaned Palestinian girl who finds herself drawn into the conflict.
Schnabel, who directed Oscar-nominated film The Diving Bell and the Butterfly, said: "The whole point is because I'm an American Jew, and that's why it touched me because it's a big part of my life.
"It's important for Muslims to hear that, it's important for Jewish people to hear that, and for Israel and for people everywhere," he added.
The film is being distributed in the United States by Jewish-origin film mogul Harvey Weinstein.